Mazda CX-3: Specifications / Personalization Features
The following personalization features can be set or changed by an Authorized Mazda Deal- er. Consult an Authorized Mazda Dealer for details.
Additionally, some of the personalization features can be changed by the customer depend- ing on the feature.
Personalization features and settings which can be changed differ depending on the market and specification.
Settings Change Method

Settings can be changed by operating the center display screen.
A: Refer to Settings.
B: Refer to Fuel Economy Monitor.
C: Refer to Active driving display.

Settings can be changed by operating the vehicle switches.
D: Refer to Stopping The Smart City Brake Support (SCBS) System Operation.
E: Refer to Auto Lock/Unlock Function.
F: Refer to Transmitter.
G: Refer to Locking, Unlocking with Request Switch (With the advanced keyless function).

Settings can be changed by an Authorized Mazda Dealer.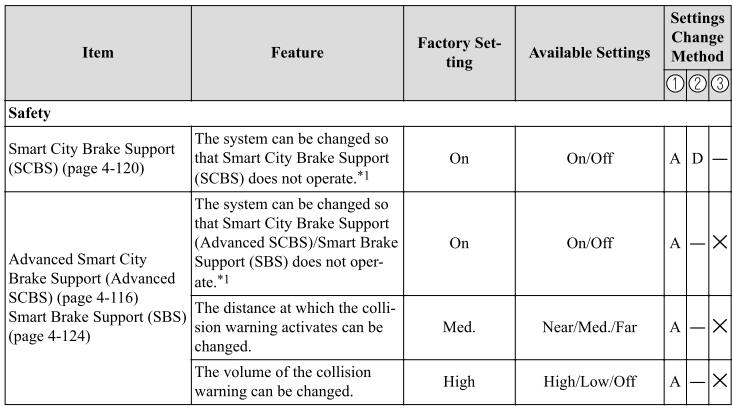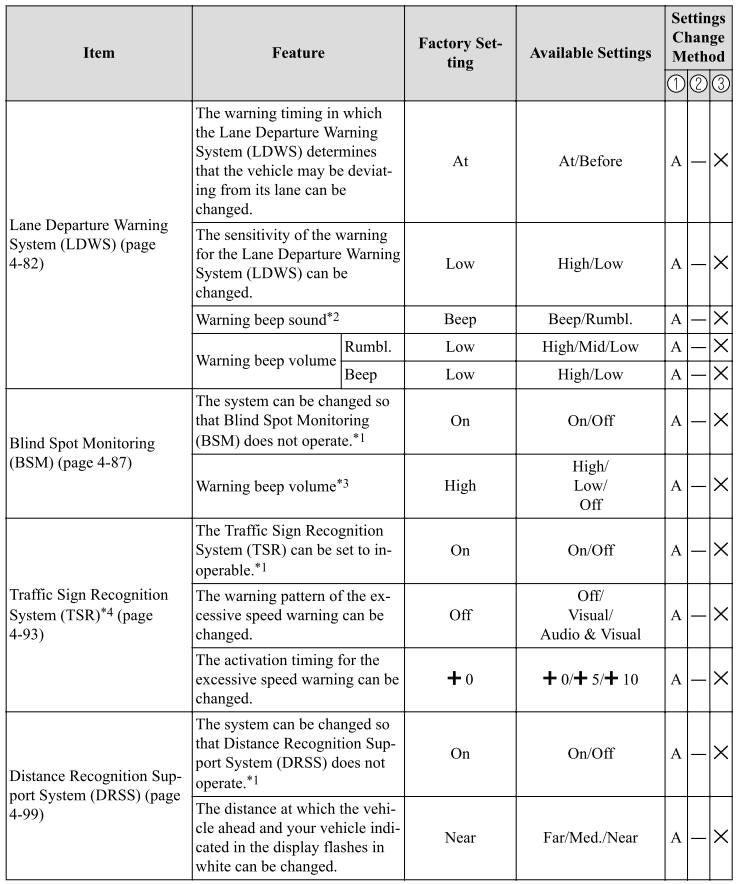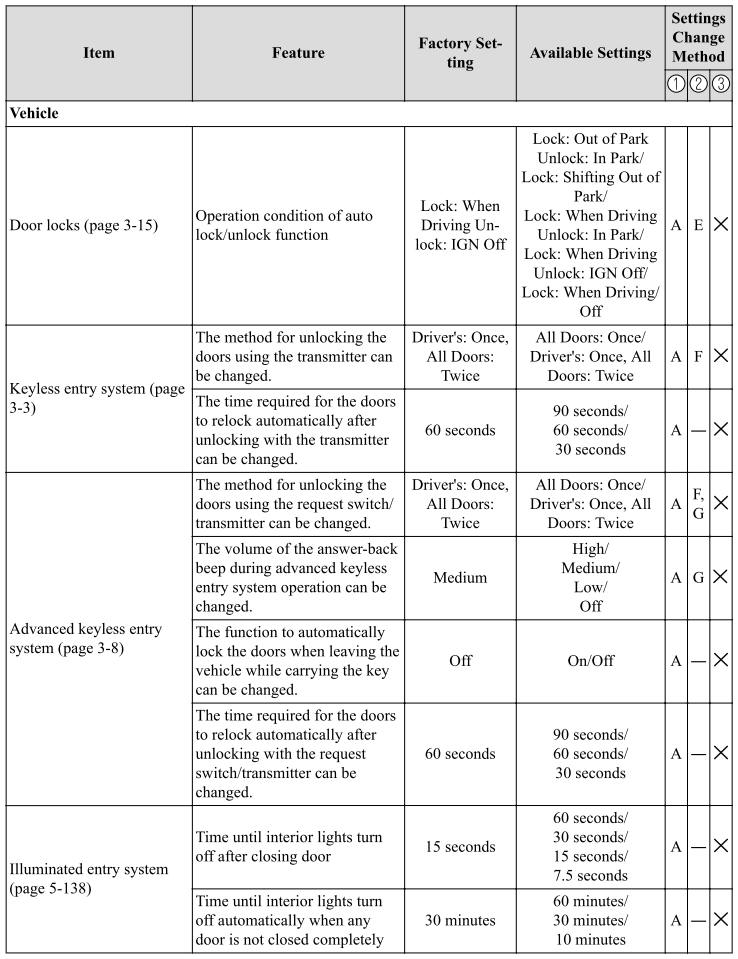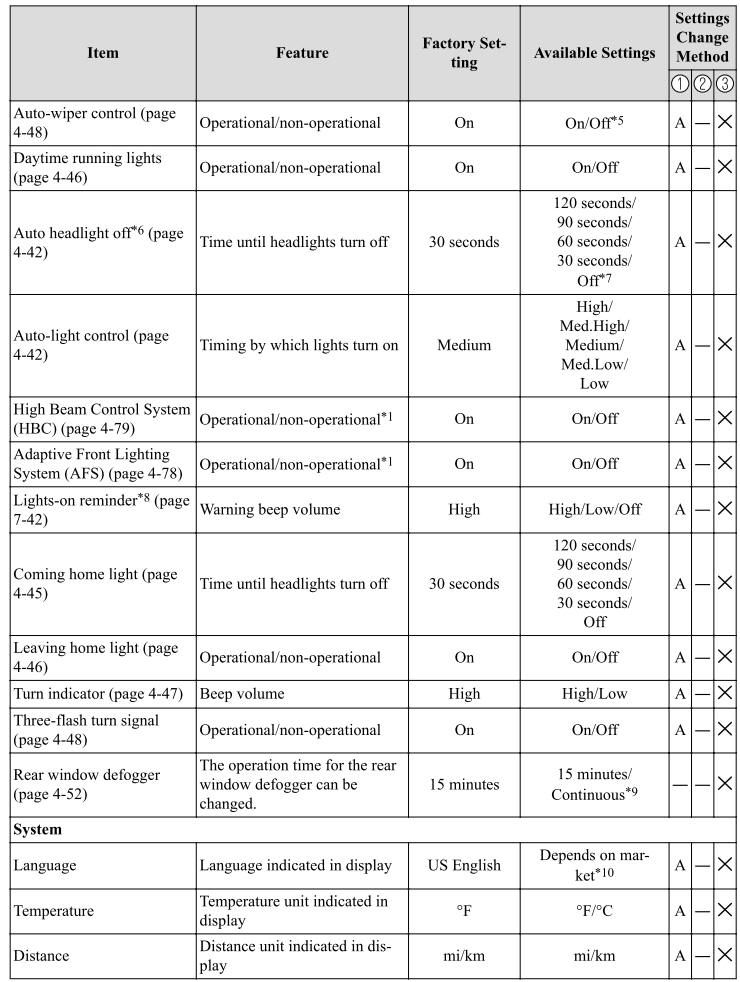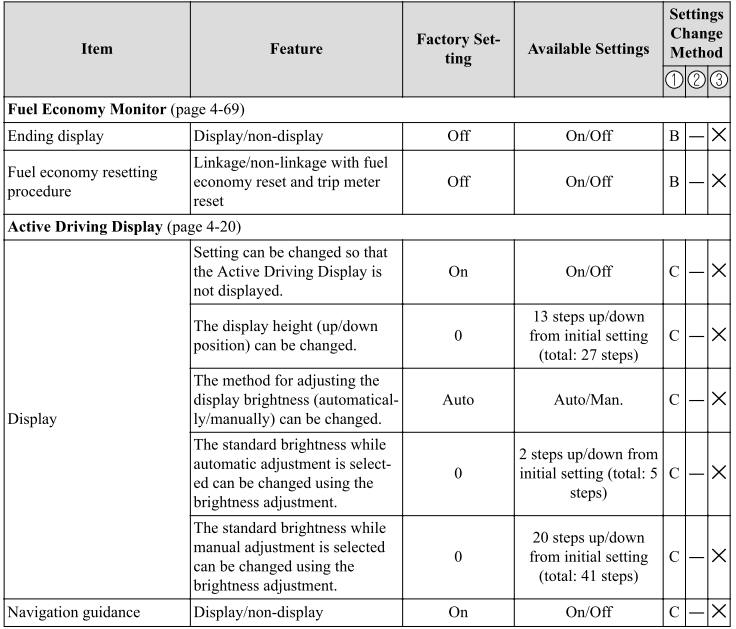 *1 Though these systems can be turned Off, doing so will defeat the purpose of the system and Mazda recommends that these systems remain On.
*2 For vehicles with an audio system other than the on-screen function type, the warning sound cannot be changed. The warning sound is only a beep.
*3 Only the volume of the warning beep during Blind Spot Monitoring (BSM) operation can be changed. The volume of the warning beep during Rear Cross Traffic Alert (RCTA) operation cannot be changed.
*4 This system functions only when the navigation system is functioning.
*5 If the auto-wiper control is set to Off, the wiper lever

position is set to intermittent operation.
*6 If the setting is changed to Off, the following operation is performed according to the headlight switch position:
At position: Headlights turn off immediately after the ignition is switched off.
At any position other than : Headlights do not turn off after the ignition is switched off.
*7 When set to Off, the lights-on reminder is operable.
*8 The setting of the lights-on reminder can be changed with the time setting of auto headlight off function set to Off. Refer to Lights-On Reminder.
*9 The operation may stop in 15 minutes due to the effect of the outside temperature even if the operation time of the rear window defogger has been changed to Continuous.
*10 Available only in display from the center display.