Mazda CX-3: Bluetooth® / Component Parts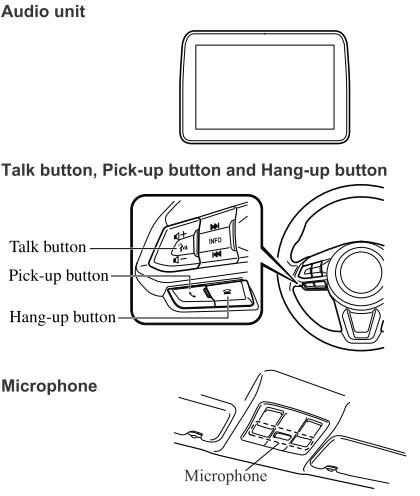 Microphone (hands-free)
The microphone is used for speaking voice commands or when making a Hands-free call.
Talk button
Activates the voice recognition. In addition, it skips the voice guidance.
Pick-up button
Responds to incoming calls. In addition, after selecting a contact or dialing a number, it places the call when the button is pressed.
Hang-up button
Ends the call or refuses an incoming call. In addition, it ends the voice recognition operation.
Commander switch
The commander switch is used for volume adjustment and display operation. Tilt or turn the commander knob to move the cursor. Press the commander knob to select the icon.
Volume adjustment
The volume dial of the commander switch is used to adjust the volume. Turn the dial to the right to increase volume, to the left to decrease it. The volume can also be adjusted using the volume button on the steering wheel.
NOTE
Press the volume dial to switch the audio MUTE on and off.
If the volume is lower compared to other audio modes, increase the volume from the device side.
Conversation volume and the volume of the voice guidance and ringtone can each be set in advance.
Select the icon on the home screen to display the Communication screen.
Select .
Adjust the and the using the slider.
Bluetooth® Hands-Free outline When a Bluetooth® device (mobile phone) is connected to the vehicle's Bluetooth® unit via radio wave transmission, a call can be made or received by pressing the talk button, pick-up button, or hang-up button on the audio remote control switch, or by operating the center display...
Other information:
If foreign matter is detected between the window and the window frame while the window is closing automatically (refer to Auto-opening/Closing on page 3-30), the window stops closing and automatically opens partway. NOTE The jam-safe function may operate under the following conditions: A strong impact is detected while the window is closing automatically...
Only use genuine Mazda accessories or the equivalent requiring no greater than 120 W (DC 12 V, 10 A). The ignition must be switched to ACC or ON. CAUTION To prevent accessory socket damage or electrical failure, pay attention to the following: Do not use accessories that require more than 120 W (DC 12 V, 10 A)...
Categories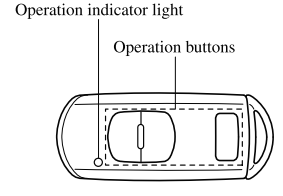 NOTE
The headlights turn on/off by operating the transmitter. Refer to Leaving Home Light. (With theft-deterrent system)
The hazard warning lights flash when the theft-deterrent system is armed or turned off. Refer to Theft-Deterrent System.
(With the advanced keyless function)