Mazda CX-3: Child Restraint / Installing Child-Restraint Systems
Accident statistics reveal that a child is safer in the rear seat. The front passenger's seat is clearly the worst choice for any child under 12, and with rear-facing child-restraint systems it is clearly unsafe due to air bags.
NOTE
Even if your vehicle is equipped with front passenger occupant classification sensor, which automatically deactivates the front passenger air bag, a rear seat is the safest place for a child of any age or size.
Some child-restraint systems now come with tethers and therefore must be installed on the seats that take tethers to be effective. In your Mazda, tethered child-restraint systems can only be accommodated in the three positions on the rear seat.
Some child-restraint systems also employ specially designed ISOFIX/LATCH*1 attachments; refer to "Using ISOFIX Lower Anchor (Mexico)/Using LATCH Lower Anchor (Except Mexico)".
*1 ISOFIX (Mexico)/LATCH (Except Mexico)
WARNING
Tethered Child-Restraint Systems Work Only on Tether-Equipped Rear Seats: Installation of a tether equipped child-restraint system in the front passenger's seat defeats the safety design of the system and will result in an increased chance of serious injury if the child-restraint system goes forward without benefit of being tethered. Place tether equipped child-restraint systems where there are tether anchors.
Categories
The fuel gauge shows approximately how much fuel is remaining in the tank when the ignition is switched ON. We recommend keeping the tank over 1/4 full.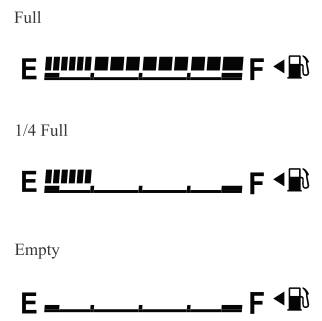 If the low fuel warning light illuminates or the fuel level is very low, refuel as soon as possible.
If inconsistency in engine performance or stalling occurs due to low fuel level conditions, refuel the vehicle as soon as possible and add at least 10 L (2.7 US gal, 2.2 Imp gal) of fuel. Refer to Taking Action.