Mazda CX-3: Audio Set [Type A (non-touchscreen)] / Power/Volume/Sound Controls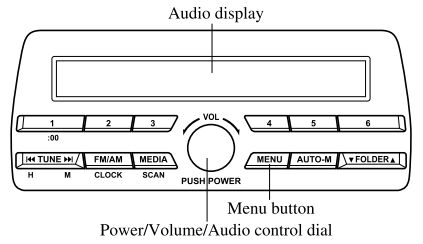 Power ON/OFF
Switch the ignition to ACC or ON. Press the power/volume dial to turn the audio system on. Press the power/volume dial again to turn the audio system off.
Volume adjustment
To adjust the volume, turn the power/ volume dial. Turn the power/volume dial clockwise to increase volume, counterclockwise to decrease it.
Audio sound adjustment
Press the menu button
to select the function. The selected function will be indicated.
Turn the audio control dial to adjust the selected functions as follows: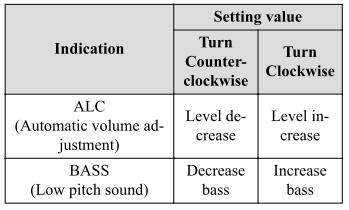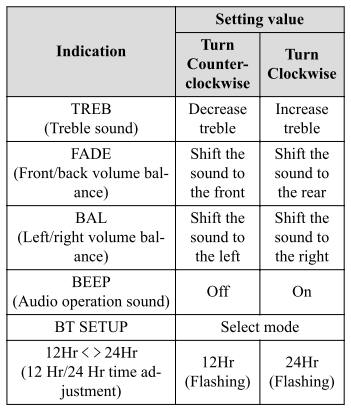 NOTE
If not operated for several seconds, the display returns to the previous display. To reset bass, treble, fade, and balance, press the menu button

for 2 seconds. The unit will beep and "CLEAR" will be displayed.
ALC (Automatic volume adjustment)
The automatic level control (ALC) changes the audio volume automatically according to the vehicle speed. The faster the vehicle speed, the higher the volume increases. ALC has ALC OFF and ALC LEVEL 1 to 7 modes. At ALC LEVEL 7, the amount that the volume can increase is at the maximum. Select the mode according to the driving conditions.
BEEP (Audio operation sound)
The setting for the operation sound when pressing and holding a button can be changed. The initial setting is ON. Set to OFF to mute the operation sound.
BT SETUP mode
Music and other audio such as voice data recorded on portable audio devices and mobile phones available on the market which are equipped with the Bluetooth® transmission function can be listened to via wireless transmission over the vehicle's speakers. Using the BT SETUP mode, these devices can be programmed to the Bluetooth® unit or changed.
12Hr

24Hr (12 Hr/24 Hr time adjustment)
Rotating the audio control dial switches the display between 12 and 24-hour clock time.
Setting the time The clock can be set at any time when the ignition is switched to ACC or ON. To adjust the time, press the clock button for about 2 seconds until a beep is heard...
Other information:
If a passcode is set, the system cannot be activated unless the passcode is input. NOTE Do this function only when parked. It is too distracting to attempt while driving and you may make too many errors to be effective. Passcode setting Press the pick-up button or talk button with a short press...
Temperature control dial This dial controls temperature. Turn it clockwise for hot and counterclockwise for cold. Fan control dial The fan has seven speeds. AUTO position The amount of airflow will be automatically controlled in accordance with the set temperature...