Mazda CX-3: Reporting Safety Defects / Reporting Safety Defects (U.S.A.)
If you believe that your vehicle has a defect which could cause a crash or could cause injury or death, you should immediately inform the National Highway Traffic Safety Administration (NHTSA) in addition to notifying Mazda Motor Corporation (Your Mazda Importer/Distributor).
If NHTSA receives similar complaints, it may open an investigation, and if it finds that a safety defect exists in a group of vehicles, it may order a recall and remedy campaign. However, NHTSA cannot become involved in individual problems between you, your dealer, or Mazda Motor Corporation (Your Mazda Importer/Distributor).
To contact NHTSA, you may call the Vehicle Safety Hotline toll-free at 1-888-327-4236 (TTY:1-800-424-9153); go to http://www.safercar.gov; or write to: Administrator, NHTSA, 1200 New Jersey Avenue, SE., Washington, DC, 20590. You can also obtain other information about motor vehicle safety from http://www.safercar.gov.
NOTE
If you live in the U.S.A., all correspondence to Mazda Motor Corporation should be forwarded to:
Mazda North American Operations 200 Spectrum Center Drive Suite 100 Irvine, California 92618
or
P.O. Box 19734
Irvine, CA 92623-9734
Customer Experience Center or toll free at 1 (800) 222-5500
If you live outside of the U.S.A., please contact the nearest Mazda Distributor shown in this manual.
Canadian customers who wish to report a safety-related defect to Transport Canada, Defect Investigations and Recalls, may telephone the toll free hotline 1-800-333-0510, or contact Transport Canada by mail at: Transport Canada, ASFAD, Place de Ville Tower C, 330 Sparks Street, Ottawa ON K1A 0N5...
Other information:
The voice recognition learning function enables voice recognition appropriate to the characteristics of the user's voice. If the recognition of the voice input commands to the system is not adequate, this function can largely improve the system's voice recognition of the user...
Your Mazda has a temporary spare tire. The temporary spare tire is lighter and smaller than a conventional tire, and is designed only for emergency use and should be used only for VERY short periods. Temporary spare tires should NEVER be used for long drives or extended periods...
Categories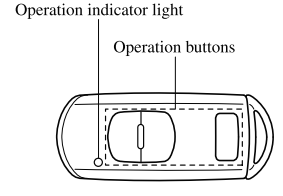 NOTE
The headlights turn on/off by operating the transmitter. Refer to Leaving Home Light. (With theft-deterrent system)
The hazard warning lights flash when the theft-deterrent system is armed or turned off. Refer to Theft-Deterrent System.
(With the advanced keyless function)