Mazda CX-3: Before Driving / Security System
Mazda cannot guarantee the immobilizer and the theft-deterrent systems' operation if the system has been modified or if any add-on equipment has been installed.
CAUTION
To avoid damage to the vehicle, do not modify the system or install any add-on equipment to the immobilizer and the theft-deterrent systems or the vehicle.
The immobilizer system allows the engine to start only with a key the system recognizes. If someone attempts to start the engine with an unrecognized key, the engine will not start, thereby helping to prevent vehicle theft...
Other information:
Guide lines which indicate the width of the vehicle (yellow) are displayed on the screen as a reference to the approximate width of the vehicle in comparison to the width of the parking space you are about to back into. Use this display view for parking your vehicle in a parking space or garage...
F..
Categories
The fuel gauge shows approximately how much fuel is remaining in the tank when the ignition is switched ON. We recommend keeping the tank over 1/4 full.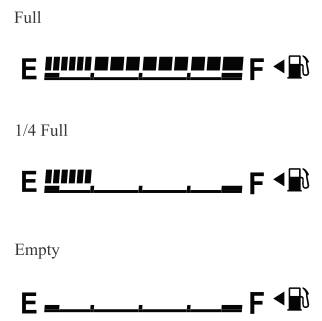 If the low fuel warning light illuminates or the fuel level is very low, refuel as soon as possible.
If inconsistency in engine performance or stalling occurs due to low fuel level conditions, refuel the vehicle as soon as possible and add at least 10 L (2.7 US gal, 2.2 Imp gal) of fuel. Refer to Taking Action.