Mazda CX-3: Audio Set [Type A (non-touchscreen)] / Troubleshooting
Mazda Bluetooth® Hands-Free Customer Service
If you have any problems with Bluetooth®, contact our toll-free customer service center.
U.S.A.
Phone: 800-430-0153 (Toll-free)
Web: www.mazdausa.com/mazdaconnect
Canada
Phone: 800-430-0153 (Toll-free)
Mexico
Center of Attention to Client (CAC)
Phone: 01-800-01-MAZDA (Toll-free)
Bluetooth® Device pairing, connection problems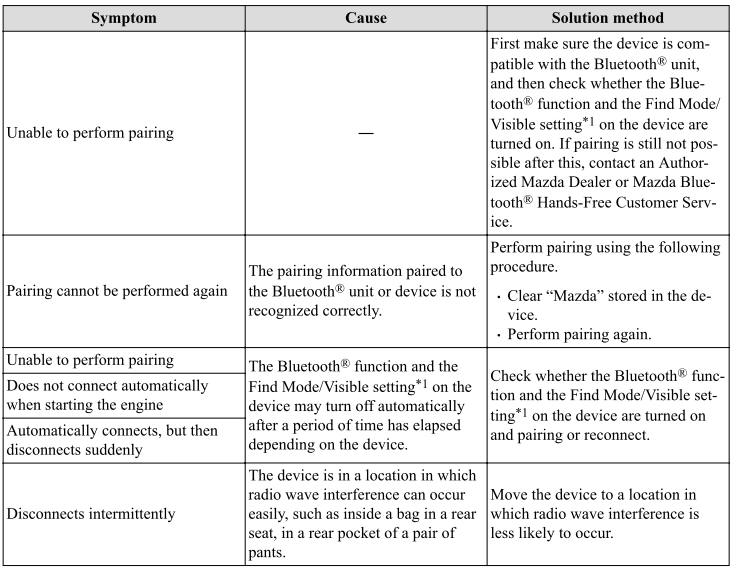 *1 Setting which detects the existence of a device external to the Bluetooth® unit.
NOTE
When the OS of the device is updated, the pairing information may be deleted. If this happens, reprogram the pairing information to the Bluetooth® unit.
If you pair your phone which has already been paired to your vehicle more than once in the past, you need to delete "Mazda" on your mobile device. Then, execute the Bluetooth® search on your mobile device once again, and pair to a newly detected "Mazda".
Before you pair your device, make sure that Bluetooth® is "ON", both on your phone and on the vehicle.
If Bluetooth®-enabled devices are used in the following locations or conditions, connection via Bluetooth® may not be possible.

The device is in a location hidden from the unit such as behind or under a seat, or inside the glove compartment.
The device contacts or is covered by a metal object or body.
The device is set to power-saving mode.

Different Bluetooth®-enabled devices can be used for Bluetooth® Hands-Free and Bluetooth® audio. For example, device A can be connected as a Bluetooth® Hands-Free device and device B can be connected as a Bluetooth® audio device. However, the following may occur when they are used at the same time.

The Bluetooth® connection of the device is disconnected.
Noise occurs in the Hands-Free audio.
Hands-Free operates slowly.
Voice recognition related problems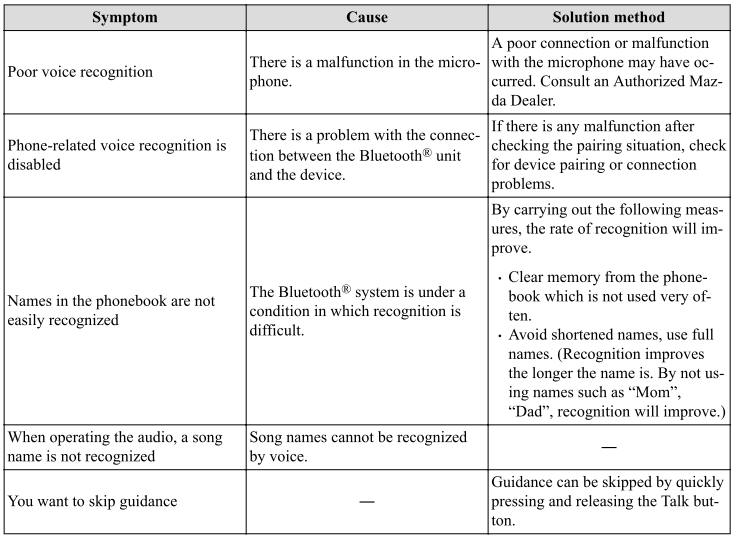 Regarding problems with calls

Other problems


If voice recognition learning has already been done. Press the pick-up button or talk button with a short press. Say: [Beep] "Voice training" Prompt: "Enrollment is enabled/ disabled...
Other information:
To use Bluetooth® Hands-Free, the device equipped with Bluetooth® has to be paired to the Bluetooth® unit using the following procedure. A maximum of seven devices including hands-free mobile phones and Bluetooth® audio devices can be paired to one vehicle...
If you believe that your vehicle has a defect which could cause a crash or could cause injury or death, you should immediately inform the National Highway Traffic Safety Administration (NHTSA) in addition to notifying Mazda Motor Corporation (Your Mazda Importer/Distributor)...
Categories
Opening the liftgate with Electric liftgate opener
Unlock the doors and liftgate, then press the electric liftgate opener on the liftgate and raise the liftgate when the latch releases.