Mazda CX-3: Customer Information and Reporting Safety Defects / Declaration of Conformity
Keyless Entry System/Immobilizer System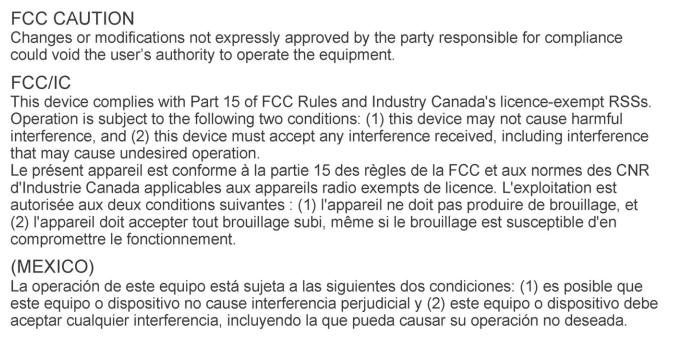 Blind Spot Monitoring (BSM) System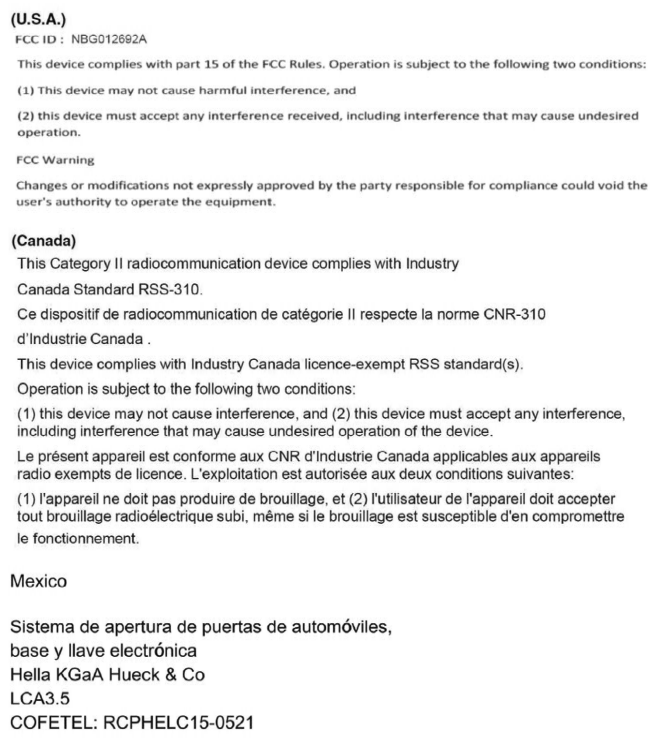 Tire Pressure Monitoring System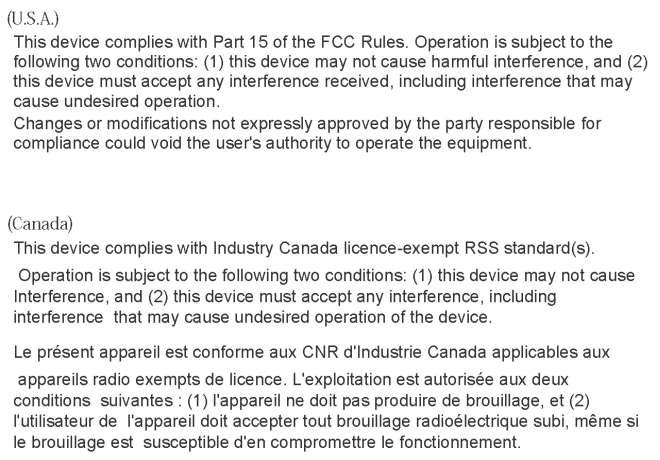 Bluetooth® Hands-Free
Type A
U.S.A. and Canada

FCC ID: NT8MBLUEC09 IC:3043A-MBLUEC09
This device complies with Part 15 of the FCC Rules and with RSS-210 of Industry Canada.
Operation is subject to the following two conditions:
(1) This device may not cause harmful interference, and
(2) This device must accept any interference received, including interference that may cause undesired operation.
WARNING
Changes or modifications not expressly approv ed by the party responsible for compliance could void the user's authority to operate the equipment.
The term "IC: " before the radio certification number only signifies that Industry Canada technical specifications were met.
The antenna used for this transmitter must not be co-located or operating in conjunction with any other antenna or transmitter. End-users and installers must be provided with installation instructions and transmitter operating conditions for satisfying RF exposure compliance.
Mazda Bluetooth® Hands-Free Customer Service
Mexico

Brief description: Bluetooth module for Hands-free telephone and streaming audio
Name and address of the importer: Refer to "MEXICO" (page 8-13) in Importer/ Distributor section.
Brand name of the product: Visteon Corporation.
Model name of the product: MAZ
Names and addresses of where the warranty can be served: Refer to "MEXICO" in Importer/Distributor section.
Names and addresses of where to acquire spare parts, consumables and accessories: Refer to "MEXICO" in Importer/Distributor section.
Warranty period, items covered by the warranty and its possible limitations or exceptions:

Refer to the Warranty Booklet for detailed warranty information.

Warranty procedure:

Center of Attention to Client (CAC)

Phone: 01-800-01-MAZDA

Electrical specifications:

Voltage: 9-16V, Frequency: 2.4Ghz, Current: 270mA(Typ)
Type B
U.S.A. and Canada
Type B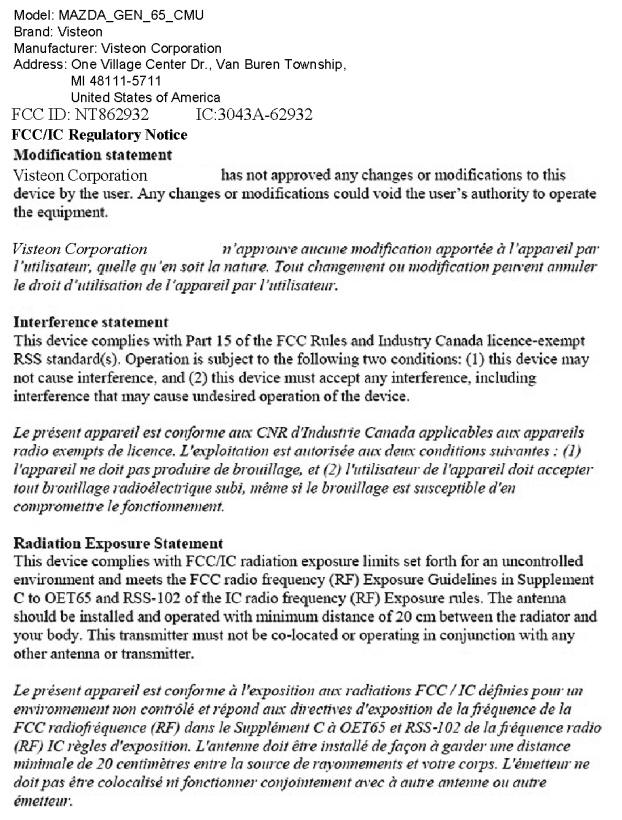 Mexico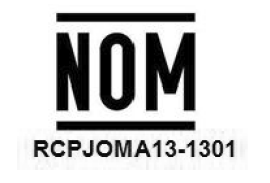 Smart Brake Support (SBS)/Mazda Radar Cruise Control (MRCC)/Distance Recognition Support System (DRSS)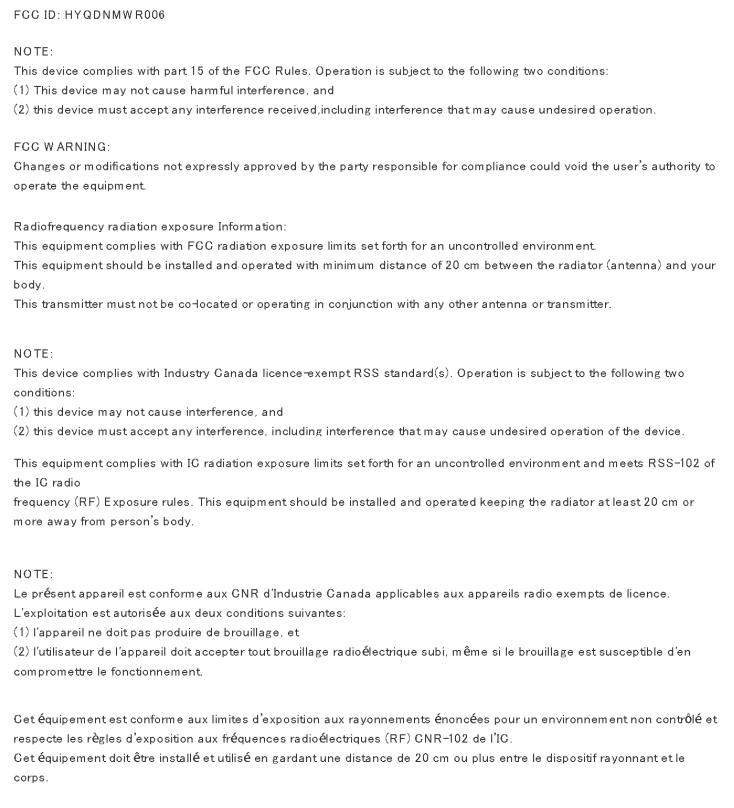 Steps for Determining Correct Load Limit- (1) Locate the statement "The combined weight of occupants and cargo should never exceed XXX kg or XXX lbs...
Other information:
Operate the climate control system with the engine running. To prevent the battery from being discharged, do not leave the fan control dial on for a long period of time with the ignition switched ON when the engine is not running. Clear all obstructions such as leaves, snow and ice from the hood and the air inlet in the cowl grille to improve the system efficiency...
The Traction Control System (TCS) enhances traction and safety by controlling engine torque and braking. When the TCS detects driving wheel slippage, it lowers engine torque and operates the brakes to prevent loss of traction. This means that on a slick surface, the engine adjusts automatically to provide optimum power to the drive wheels, limiting wheel spin and loss of traction...
Categories
In this owner's manual, explanation of child-restraint systems is provided for the following three types of popular child-restraint systems: infant seat, child seat, booster seat.
NOTE
Installation position is determined by the type of child-restraint system. Always read the manufacturer's instructions and this owner's manual carefully. Due to variations in the design of child-restraint systems, vehicle seats and seat belts, all child-restraint systems may not fit all seating positions. Before purchasing a child-restraint system, it should be tested in the specific vehicle seating position (or positions) where it is intended to be used. If a previously purchased child-restraint system does not fit, you may need to purchase a different one that will.