Mazda CX-3: Pictorial Index / Exterior Overview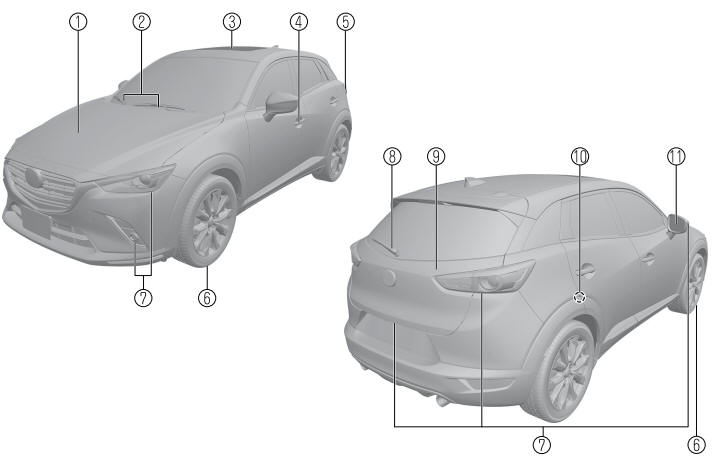 Hood
Windshield wiper blades
Moonroof
Door and key
Fuel-filler lid
Wheels and Tires
Exterior lights
Rear window wiper blade
Liftgate
Child safety lock
Outside mirror
Other information:
NOTE When purchasing, ask the manufacturer of the child-restraint system which type of child-restraint system is appropriate for your child and vehicle. (Mexico) Child-restraint systems are classified into the following 5 groups according to the UN-R 44 regulation...
Hanging Up a Call Press the hang-up button during the call. A beep sound will confirm that call is ended. Mute The microphone can be muted during a call. Press the talk button with a short press. Say: [Beep] "Mute" Prompt:"Microphone muted" Canceling mute Press the talk button with a short press...
Categories
WARNING
Do not stack cargo or objects higher than the seatbacks:
Cargo stacked higher than the seatbacks is dangerous. It can block your view in the rearview mirror, which might cause you to hit another car when changing lanes.
Rearview mirror adjustment
Before driving, adjust the rearview mirror to center on the scene through the rear window.