Mazda CX-3: Liftgate / Luggage Compartment
Luggage compartment cover*
WARNING
Do not place anything on top of the cover: Placing luggage or other cargo on top of the luggage compartment cover is dangerous. During sudden braking or a collision, the cargo could become a projectile that could hit and injure someone. The vehicle has a light weight luggage compartment cover to keep the contents of your luggage area out of sight; it will not retain heavy objects that are not tied down in an accident such as a rollover. Tie down all heavy objects, whether luggage or cargo, using the tie down hooks.
Make sure luggage and cargo are secured before driving:
Not securing cargo while driving is dangerous as it could move or be crushed during sudden braking or a collision and cause injury.
CAUTION
Make sure the luggage compartment cover is firmly secured. If it is not firmly secured, it could unexpectedly disengage resulting in injury.
The luggage compartment can be accessed by opening the liftgate when the straps are attached to the sides of the liftgate.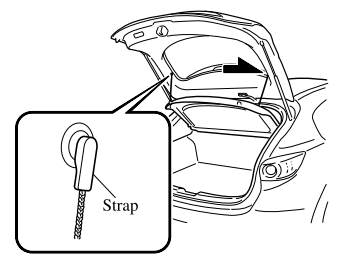 Removing the cover
This cover can be removed for more room.
Remove the straps from the hooks.
Lift the end of the luggage compartment cover a little, pull it outward, and remove it from the pins.

Lift the front end of the luggage compartment cover and remove it.
Opening the liftgate with Electric liftgate opener Unlock the doors and liftgate, then press the electric liftgate opener on the liftgate and raise the liftgate when the latch releases...
Other information:
U.S.A. and Puerto Rico residents - Severe driving conditions maintenance interval Chart symbols: I: Inspect: Inspect and clean, repair, adjust, fill up, or replace if necessary. R: Replace L: Lubricate C: Clean T: Tighten D: Drain Remarks: *1 If the vehicle is operated in very dusty or sandy areas, clean and if necessary, replace the air filter more often than the recommended intervals...
NOTE When purchasing, ask the manufacturer of the child-restraint system which type of child-restraint system is appropriate for your child and vehicle. (Mexico) Child-restraint systems are classified into the following 5 groups according to the UN-R 44 regulation...
Categories
In this owner's manual, explanation of child-restraint systems is provided for the following three types of popular child-restraint systems: infant seat, child seat, booster seat.
NOTE
Installation position is determined by the type of child-restraint system. Always read the manufacturer's instructions and this owner's manual carefully. Due to variations in the design of child-restraint systems, vehicle seats and seat belts, all child-restraint systems may not fit all seating positions. Before purchasing a child-restraint system, it should be tested in the specific vehicle seating position (or positions) where it is intended to be used. If a previously purchased child-restraint system does not fit, you may need to purchase a different one that will.