Mazda CX-3: Emergency Towing / Towing Description
We recommend that towing be done only by an Authorized Mazda Dealer or a commercial tow-truck service.
Proper lifting and towing are necessary to prevent damage to the vehicle. Particularly when towing an AWD vehicle, where all the wheels are connected to the drive train, proper transporting of the vehicle is absolutely essential to avoid damaging the drive system. Government and local laws must be followed.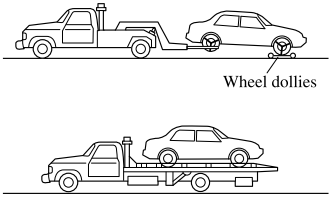 A towed 2WD vehicle should have its drive wheels (front wheels) off the ground. If excessive damage or other conditions prevent this, use wheel dollies.
When towing a 2WD vehicle with the rear wheels on the ground, release the parking brake.
Refer to Electric Parking Brake (EPB).
A towed AWD vehicle must have all its wheels off the ground.
WARNING
Always tow an AWD vehicle with all four wheels off the ground: Towing an AWD vehicle with either the front or rear wheels on the ground is dangerous as the drive train could be damaged, or the vehicle could trail away from the tow truck and cause an accident. If the drive train has been damaged, transport the vehicle on a flatbed truck.
CAUTION
Do not tow the vehicle pointed backward with driving wheels on the ground. This may cause internal damage to the transaxle.
Do not tow with sling-type equipment. This could damage your vehicle. Use wheel-lift or flatbed equipment.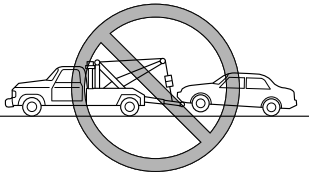 If the parking brake cannot be released when towing the vehicle, transport the vehicle with all front and rear wheels raised off the ground as shown in the figure. If the vehicle is towed without raising the wheels off the ground, the brake system could be damaged.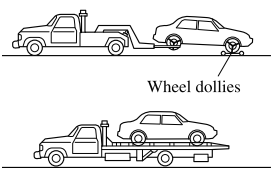 CAUTION Do not use the front tiedown eyelet for towing the vehicle. They have been designed only for securing the vehicle to a transport vessel during shipping...
Other information:
S..
Check local regulations before using tire chains. CAUTION Chains may affect handling. Do not go faster than 50 km/h (30 mph) or the chain manufacturer's recommended limit, whichever is lower. Drive carefully and avoid bumps, holes, and sharp turns...
Categories
Opening the liftgate with Electric liftgate opener
Unlock the doors and liftgate, then press the electric liftgate opener on the liftgate and raise the liftgate when the latch releases.