Mazda CX-3: Head Restraints / Removal/Installation
To remove the head restraint, pull it up while pressing the stop-catch. To install the head restraint, insert the legs into the holes while pressing the stop-catch.
WARNING
Always drive with the head restraints installed when seats are being used and make sure they are properly installed: Driving with the head restraints not installed is dangerous. With no support behind your head, your neck could be seriously injured in a collision.
After installing a head restraint, try lifting it to make sure that it does not pull out: Driving with an unsecured head restraint is dangerous as the effectiveness of the head restraint will be compromised which could cause it to unexpectedly detach from the seat.
CAUTION
When installing a head restraint, make sure that it is installed correctly with the front of the head restraint facing forward. If the head restraint is installed incorrectly, it could detach from the seat during a collision and result in injury.
The head restraints on each of the front and rear seats are specialized to each seat. Do not switch around the head restraint positions. If a head restraint is not installed to its correct seat position, the effectiveness of the head restraint during a collision will be compromised which could cause injury.
Adjust the head restraint so that the center is even with the top of the passenger's ears. To raise a head restraint, pull it up to the desired position...
Other information:
Plastic Part Maintenance CAUTION Do not use polishing agents. Depending on the product ingredients, they could cause discoloration, stains, cracks or peeling of the coating. Instrument Panel Top Maintenance Wipe the soiled area with a soft cloth soaked in a mild detergent (approx...
WARNING Never hang heavy or sharp objects on the assist grips and coat hooks: Hanging heavy or sharp-ended objects such as a coat hanger from the assist grips or coat hooks is dangerous as they can fly off and hit an occupant in the cabin if a curtain air bag was to deploy, which could result in serious injury or death...
Categories
The fuel gauge shows approximately how much fuel is remaining in the tank when the ignition is switched ON. We recommend keeping the tank over 1/4 full.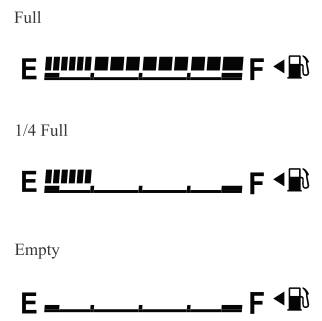 If the low fuel warning light illuminates or the fuel level is very low, refuel as soon as possible.
If inconsistency in engine performance or stalling occurs due to low fuel level conditions, refuel the vehicle as soon as possible and add at least 10 L (2.7 US gal, 2.2 Imp gal) of fuel. Refer to Taking Action.