Mazda CX-3: Seat Warmer/Heated Steering Wheel / Heated Steering Wheel (Some models)
The grips on the left and right of the steering wheel can be warmed up.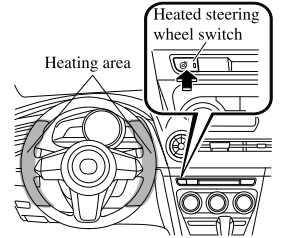 The ignition must be switched ON.
Press the switch to turn on the heated steering wheel. The heated steering wheel operates for about 30 minutes and then turns off automatically.
The indicator light illuminates when the heater is operating.
To turn off the heated steering wheel before the 30 minutes has elapsed, press the switch again.
CAUTION
The following types of persons should be careful not to touch the steering wheel. Otherwise, it could cause a low-temperature burn.
Infants, small children, elderly people, and physically challenged people
People with delicate skin
People who are excessively fatigued
People who are intoxicated
People who have taken sleep-inducing medicine such as sleeping pills or cold medicine
The front seats are electrically heated. The ignition must be switched ON. Press the seat warmer switch while the ignition is switched ON to operate the seat warmer...
Other information:
Pandora®*1 is free personalized Internet radio. Simply enter a favorite artist, track, genre, and Pandora® will create a personalized station that plays their music and more like it. Rate songs by giving thumbs-up and thumbs-down feedback to further refine your station, discover new music and help Pandora® play only music you like...
Radio ON Press a band selector button to turn the radio on. Band selection Successively pressing the band selector button switches the bands as follows: FM1→FM2→AM. The selected mode will be indicated. NOTE If the FM broadcast signal becomes weak, reception automatically changes from STEREO to MONO for reduced noise...
Categories
The speedometer indicates the speed of the vehicle.
NOTE
(Analog speedometer type)
If a few seconds have elapsed after switching the ignition off, the needle may deviate. However, this does not indicate a problem.
Speed Unit Selector (Digital Speedometer)(Some models)
In some countries, you may have to change the speed units between km/h and mph.