Mazda CX-3: Seat Warmer/Heated Steering Wheel / Heated Steering Wheel (Some models)
The grips on the left and right of the steering wheel can be warmed up.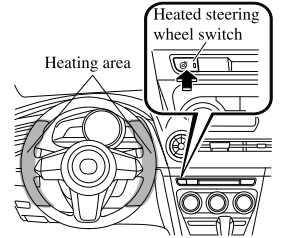 The ignition must be switched ON.
Press the switch to turn on the heated steering wheel. The heated steering wheel operates for about 30 minutes and then turns off automatically.
The indicator light illuminates when the heater is operating.
To turn off the heated steering wheel before the 30 minutes has elapsed, press the switch again.
CAUTION
The following types of persons should be careful not to touch the steering wheel. Otherwise, it could cause a low-temperature burn.
Infants, small children, elderly people, and physically challenged people
People with delicate skin
People who are excessively fatigued
People who are intoxicated
People who have taken sleep-inducing medicine such as sleeping pills or cold medicine
The front seats are electrically heated. The ignition must be switched ON. Press the seat warmer switch while the ignition is switched ON to operate the seat warmer...
Other information:
Introduction Be careful not to hurt yourself when inspecting your vehicle, replacing a tire, or doing some kind of maintenance such as car washing. In particular, wear thick work gloves such as cotton gloves when touching areas that are difficult to see while inspecting or working on your vehicle...
If several devices have been paired, the Bluetooth® unit links the device last paired. If you would like to link a different paired device, it is necessary to change the link. The order of device priority after the link has been changed is maintained even when the ignition is switched off...
Categories
The speedometer indicates the speed of the vehicle.
NOTE
(Analog speedometer type)
If a few seconds have elapsed after switching the ignition off, the needle may deviate. However, this does not indicate a problem.
Speed Unit Selector (Digital Speedometer)(Some models)
In some countries, you may have to change the speed units between km/h and mph.