Mazda CX-3: Meters and Gauges / Speedometer
The speedometer indicates the speed of the vehicle.
NOTE
(Analog speedometer type)
If a few seconds have elapsed after switching the ignition off, the needle may deviate. However, this does not indicate a problem.
Speed Unit Selector (Digital Speedometer)(Some models)
In some countries, you may have to change the speed units between km/h and mph.
Press the speed unit selector for 1.5 seconds or more. The speed units for the speedometer will change between km/h and mph.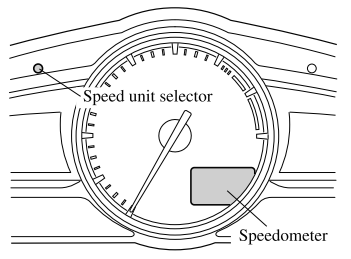 The display mode can be changed from odometer to trip meter A to trip meter B and then back to odometer by pressing the selector while one of them is displayed...
Other information:
..
If a passcode is set, the system cannot be activated unless the passcode is input. NOTE Do this function only when parked. It is too distracting to attempt while driving and you may make too many errors to be effective. Passcode setting Press the pick-up button or talk button with a short press...
Categories
WARNING
Be sure to look over your shoulder before changing lanes:
Changing lanes without taking into account the actual distance of the vehicle in the convex mirror is dangerous. You could have a serious accident. What you see in the convex mirror is closer than it appears.
Mirror type
Flat type (driver's side)