Mazda CX-3: Instrument Cluster and Display / Meters and Gauges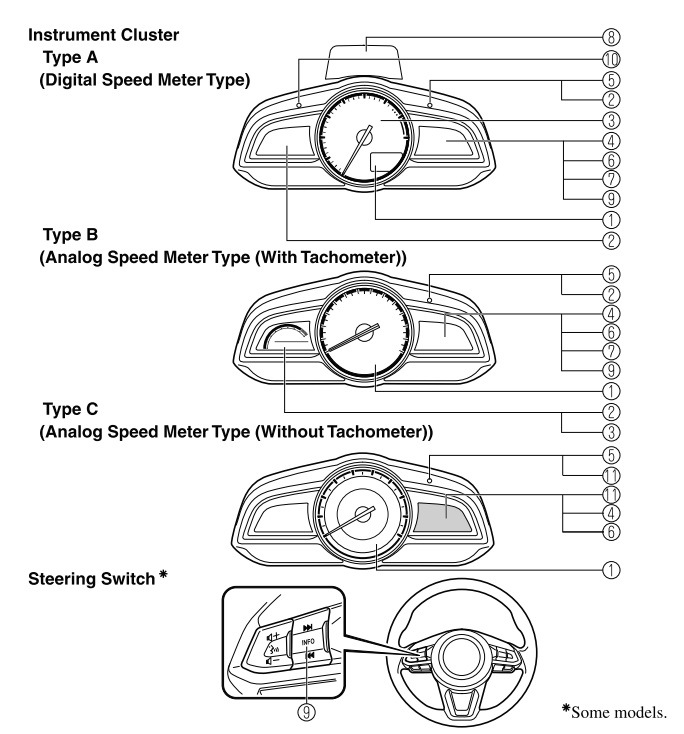 Speedometer
Odometer, Trip Meter and Trip Meter Selector
Tachometer
Fuel Gauge
Dashboard Illumination
Outside Temperature Display
Cruise Control Set Vehicle Speed Display
Active Driving Display
Trip Computer and INFO Switch
Speed Unit Selector
Odometer, Trip Meter, Trip Computer and Trip Meter Selector
The speedometer indicates the speed of the vehicle. NOTE (Analog speedometer type) If a few seconds have elapsed after switching the ignition off, the needle may deviate...
Other information:
The ignition must be switched ON to use the wipers. WARNING Use only windshield washer fluid or plain water in the reservoir: Using radiator antifreeze as washer fluid is dangerous. If sprayed on the windshield, it will dirty the windshield, affect your visibility, and could result in an accident...
The Dynamic Stability Control (DSC) automatically controls braking and engine torque in conjunction with systems such as ABS and TCS to help control side slip when driving on slippery surfaces, or during sudden or evasive maneuvering, enhancing vehicle safety...
Categories
The system operates only when the driver is in the vehicle or within operational range while the key is being carried.
NOTE
When the battery power is low, or in places where there are high-intensity radio waves or noise, the operational range may become narrower or the system may not operate. For determining battery replacement, Refer to Keyless Entry System.