Mazda CX-3: Instrument Cluster and Display / Meters and Gauges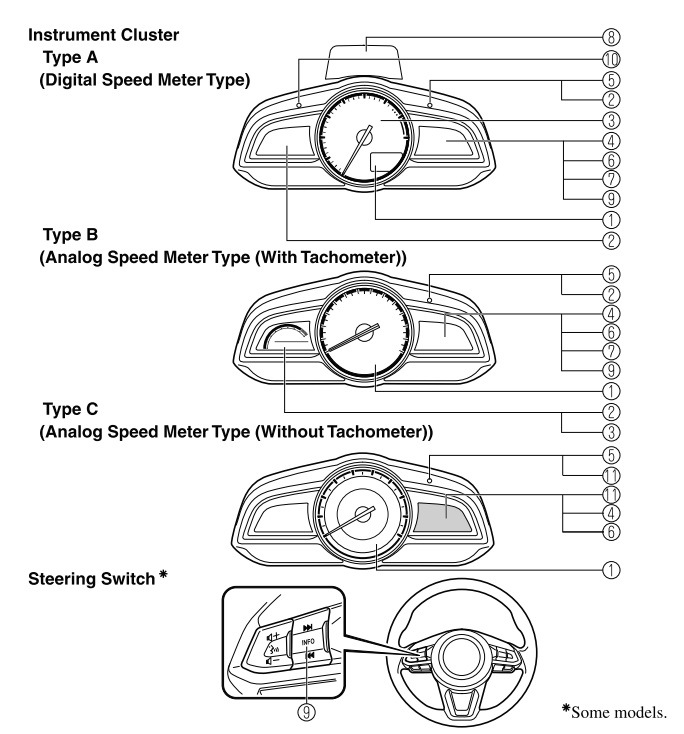 Speedometer
Odometer, Trip Meter and Trip Meter Selector
Tachometer
Fuel Gauge
Dashboard Illumination
Outside Temperature Display
Cruise Control Set Vehicle Speed Display
Active Driving Display
Trip Computer and INFO Switch
Speed Unit Selector
Odometer, Trip Meter, Trip Computer and Trip Meter Selector
The speedometer indicates the speed of the vehicle. NOTE (Analog speedometer type) If a few seconds have elapsed after switching the ignition off, the needle may deviate...
Other information:
System triggering conditions The horn sounds intermittently and the hazard warning lights flash for about 30 seconds when the system is triggered by any one of the following: Unlocking a door with the auxiliary key, door lock switch, or an inside door-lock knob...
To temporarily cancel the system, use one of these methods: Slightly depress the brake pedal. (Manual transaxle) Depress the clutch pedal. Press the OFF/CAN switch. If the switch is pressed when the vehicle speed is 25 km/h (16 mph) or higher, the system reverts to the previously set speed...
Categories
The system operates only when the driver is in the vehicle or within operational range while the key is being carried.
NOTE
When the battery power is low, or in places where there are high-intensity radio waves or noise, the operational range may become narrower or the system may not operate. For determining battery replacement, Refer to Keyless Entry System.