Mazda CX-3: Instrument Cluster and Display / Meters and Gauges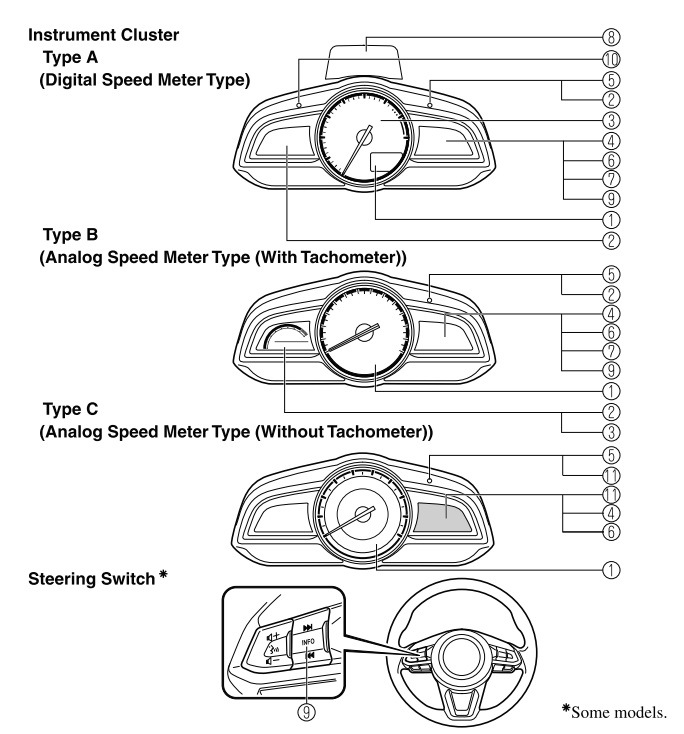 Speedometer
Odometer, Trip Meter and Trip Meter Selector
Tachometer
Fuel Gauge
Dashboard Illumination
Outside Temperature Display
Cruise Control Set Vehicle Speed Display
Active Driving Display
Trip Computer and INFO Switch
Speed Unit Selector
Odometer, Trip Meter, Trip Computer and Trip Meter Selector
The speedometer indicates the speed of the vehicle. NOTE (Analog speedometer type) If a few seconds have elapsed after switching the ignition off, the needle may deviate...
Other information:
The TSR helps prevent the driver from overlooking traffic signs, and provides support for safer driving by displaying traffic signs on the active driving display which are recognized by the Forward Sensing Camera (FSC) or recorded in the navigation system while the vehicle is driven...
If a passcode is set, the system cannot be activated unless the passcode is input. NOTE Do this function only when parked. It is too distracting to attempt while driving and you may make too many errors to be effective. Passcode setting Press the pick-up button or talk button with a short press...
Categories
The system operates only when the driver is in the vehicle or within operational range while the key is being carried.
NOTE
When the battery power is low, or in places where there are high-intensity radio waves or noise, the operational range may become narrower or the system may not operate. For determining battery replacement, Refer to Keyless Entry System.