Mazda CX-3: Advanced Keyless Entry System (Some models) / Operational Range
The system operates only when the driver is in the vehicle or within operational range while the key is being carried.
NOTE
When the battery power is low, or in places where there are high-intensity radio waves or noise, the operational range may become narrower or the system may not operate. For determining battery replacement, Refer to Keyless Entry System.
Locking, Unlocking the Doors and the Liftgate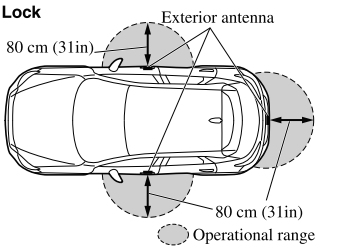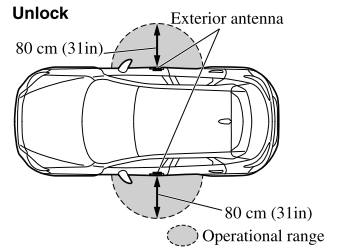 NOTE
The system may not operate if you are too close to the windows or door handles, or liftgate.
If the key is left in the following areas and you leave the vehicle, the doors may be locked depending on the radio wave conditions even if the key is left in the vehicle.

Around the dashboard
In the storage compartments such as the glove compartment or the center console
Next to a communication device such as a mobile phone
Opening the Liftgate
WARNING Radio waves from the key may affect medical devices such as pacemakers: Before using the key near people who use medical devices, ask the medical device manufacturer or your physician if radio waves from the key will affect the device...
Other information:
CAUTION Hot waxes applied by automatic car washers have been known to affect the wiper's ability to clean windows. To prevent damage to the wiper blades, do not use gasoline, kerosene, paint thinner, or other solvents on or near them. When the wiper lever is in the AUTO position and the ignition is switched ON, the wipers may move automatically in the following cases: If the windshield above the rain sensor is touched...
The ignition must be switched ON to use the wipers. WARNING Use only windshield washer fluid or plain water in the reservoir: Using radiator antifreeze as washer fluid is dangerous. If sprayed on the windshield, it will dirty the windshield, affect your visibility, and could result in an accident...
Categories
We recommend the use of Genuine Mazda floor mats.
WARNING
Make sure the floor mats are hooked on the retention pins to prevent them from bunching up under the foot pedals: Using a floor mat that is not secured is dangerous as it will interfere with the accelerator and brake pedal operation, which could result in an accident.
Do not install two floor mats, one on top of the other, on the driver's side: Installing two floor mats, one on top of the other, on the driver's side is dangerous as the retention pins can only keep one floor mat from sliding forward. Loose floor mat(s) will interfere with the foot pedals and could result in an accident. If using an all-weather mat for winter use always remove the original floor mat.