Mazda CX-3: Door Locks / Locking, Unlocking with Auxiliary Key
Turn the auxiliary key toward the front to lock, toward the back to unlock.
To lock
All doors and the liftgate lock automatically when the driver's door is locked using the auxiliary key.
To unlock
The driver's door unlocks when the auxiliary key is turned briefly to the unlock position and then immediately returned to the center position. All doors and the liftgate unlock when the driver's door is unlocked and the auxiliary key is held in the unlock position for one second or longer.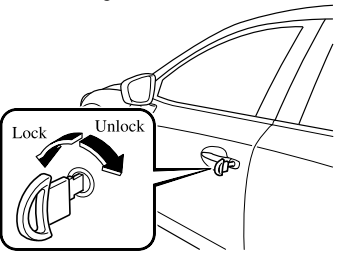 WARNING Always take all children and pets with you or leave a responsible person with them: Leaving a child or a pet unattended in a parked vehicle is dangerous...
All doors and the liftgate can be locked/ unlocked by pressing the request switch on the front doors while the key is being carried. The request switch on the liftgate can only be used to lock all doors and the liftgate...
Other information:
Insert an Android™ Smartphone-genuine connector cord into the USB terminal indicated by the icon to connect the Smartphone. Refer to How to connect USB port/Auxiliary jack. NOTE When an Android™ Smartphone connected to Bluetooth® is connected to the vehicle's USB terminal, Bluetooth® is used by Android Auto™ and the system switches to Android Auto™ mode...
I..
Categories
Anchor brackets for securing child-restraint systems are equipped in the vehicle. Locate each anchor position using the illustration.
To install a child-restraint system, remove the head restraint. Always follow the instruction manual accompanying the child-restraint system.
Anchor bracket location
Use the indicated anchor bracket locations when installing a child-restraint system equipped with a tether.