Mazda CX-3: Storage Compartments / Rear Coat Hooks
WARNING
Never hang heavy or sharp objects on the assist grips and coat hooks: Hanging heavy or sharp-ended objects such as a coat hanger from the assist grips or coat hooks is dangerous as they can fly off and hit an occupant in the cabin if a curtain air bag was to deploy, which could result in serious injury or death.
Always hang clothes on the coat hooks and the assist grips without hangers.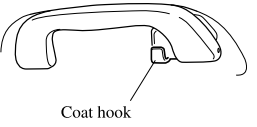 When using the luggage board in the upper level CAUTION Make sure the luggage board is securely inserted into the grooves. Otherwise, the luggage board may detach while the vehicle is being driven or during sudden braking resulting in injury or damage to the luggage board...
Other information:
For each gear position while in the manual mode, the speed limit is set as follows: When the selector lever is operated within the range of the speed limit, the gear is shifted. Shift up The gear does not shift up while the vehicle speed is lower than the speed limit...
WARNING Always use wheels of the correct size on your vehicle: Using a wrong-sized wheel is dangerous. Braking and handling could be affected, leading to loss of control and an accident. CAUTION A wrong-sized wheel may adversely affect: Tire fit Wheel and bearing life Ground clearance Snow-chain clearance Speedometer calibration Headlight aim Bumper height Tire Pressure Monitoring System* NOTE When replacing a wheel, make sure the new one is the same as the original factory wheel in diameter, rim width, and offset (inset/outset)...
Categories
We recommend the use of Genuine Mazda floor mats.
WARNING
Make sure the floor mats are hooked on the retention pins to prevent them from bunching up under the foot pedals: Using a floor mat that is not secured is dangerous as it will interfere with the accelerator and brake pedal operation, which could result in an accident.
Do not install two floor mats, one on top of the other, on the driver's side: Installing two floor mats, one on top of the other, on the driver's side is dangerous as the retention pins can only keep one floor mat from sliding forward. Loose floor mat(s) will interfere with the foot pedals and could result in an accident. If using an all-weather mat for winter use always remove the original floor mat.