Mazda CX-3: Tire Pressure Monitoring System / System Error Activation
When the warning light flashes, there may be a system malfunction. Consult an Authorized Mazda Dealer.
A system error activation may occur in the following cases:
When there is equipment or a device near the vehicle using the same radio frequency as that of the tire pressure sensors.
When a metallic device such as a non-genuine navigation system is equipped near the center of the dashboard, which may block radio signals from the tire pressure sensor to the receiver unit.
When using the following devices in the vehicle that may cause radio interference with the receiver unit.

A digital device such as a personal computer.
A current converter device such as a DC-AC converter.

When excess snow or ice adheres to the vehicle, especially around the wheels.
When the tire pressure sensor batteries are exhausted.
When using a wheel with no tire pressure sensor installed.
When using tires with steel wire reinforcement in the sidewalls.
When using tire chains.
Categories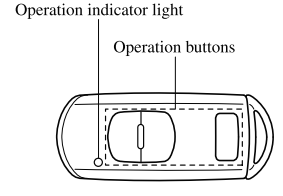 NOTE
The headlights turn on/off by operating the transmitter. Refer to Leaving Home Light. (With theft-deterrent system)
The hazard warning lights flash when the theft-deterrent system is armed or turned off. Refer to Theft-Deterrent System.
(With the advanced keyless function)