Mazda CX-3: How to Use Aha™ / Playback
Select the

icon on the home screen to display the Entertainment screen. When

is selected, the following icons are displayed at the bottom of the center display. The displayed icon differs depending on the selected station. In addition, icons other than the following icons may be displayed.

*1 Some stations may use alternate variations of Like and Dislike, based on station type or provider.
Main menu
Select the

icon.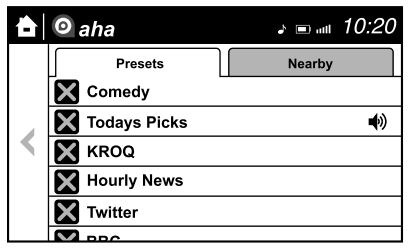 Switch the tab and select the station category.


NOTE
The available Location Based Services may differ because the services depend on the content provided by Aha™.
Example of use (Location Based Services)
Select the desired station from the "Nearby" tab on the main menu. The destination name or address playback starts in the order of the destination name list.

When the icon is selected, the currently displayed destination is displayed on the navigation system (vehicles with navigation system).
When the icon is selected, a phone call is placed to the currently displayed destination.
Select the icon to display the content list.
Selection of other destinations from the list can be made.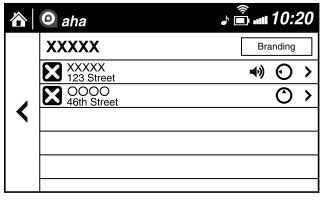 Aha™*1 is an application which can be used to enjoy various Internet content such as Internet radio and podcasts. Stay connected to your friends activities by getting updates from Facebook and Twitter...
Other information:
AM characteristics AM signals bend around such things as buildings or mountains and bounce off the ionosphere. Therefore, they can reach longer distances than FM signals. Because of this, 2 stations may sometimes be picked up on the same frequency at the same time...
If the buttons on the transmitter are inoperable and the operation indicator light does not flash, the battery may be dead. Replace with a new battery before the transmitter becomes unusable. CAUTION Make sure the battery is installed correctly...
Categories
The speedometer indicates the speed of the vehicle.
NOTE
(Analog speedometer type)
If a few seconds have elapsed after switching the ignition off, the needle may deviate. However, this does not indicate a problem.
Speed Unit Selector (Digital Speedometer)(Some models)
In some countries, you may have to change the speed units between km/h and mph.