Mazda CX-3: Audio Set [Type B (touchscreen)] / Troubleshooting
SiriusXM® use-related issues

Apple CarPlay™ use-related issues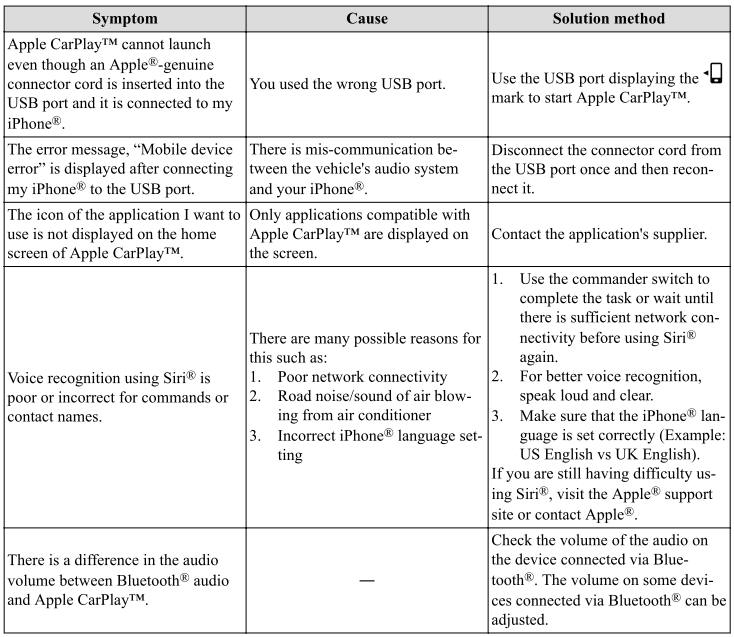 Android Auto™ use-related issues
Mazda Bluetooth® Hands-Free Customer Service
If you have any problems with Bluetooth®, contact our toll-free customer service center.
U.S.A.
Phone: 800-430-0153 (Toll-free)
Web: www.mazdausa.com/mazdaconnect
Canada
Phone: 800-430-0153 (Toll-free)
Mexico
Center of Attention to Client (CAC)
Phone: 01-800-01-MAZDA (Toll-free)
Bluetooth® Device pairing, connection problems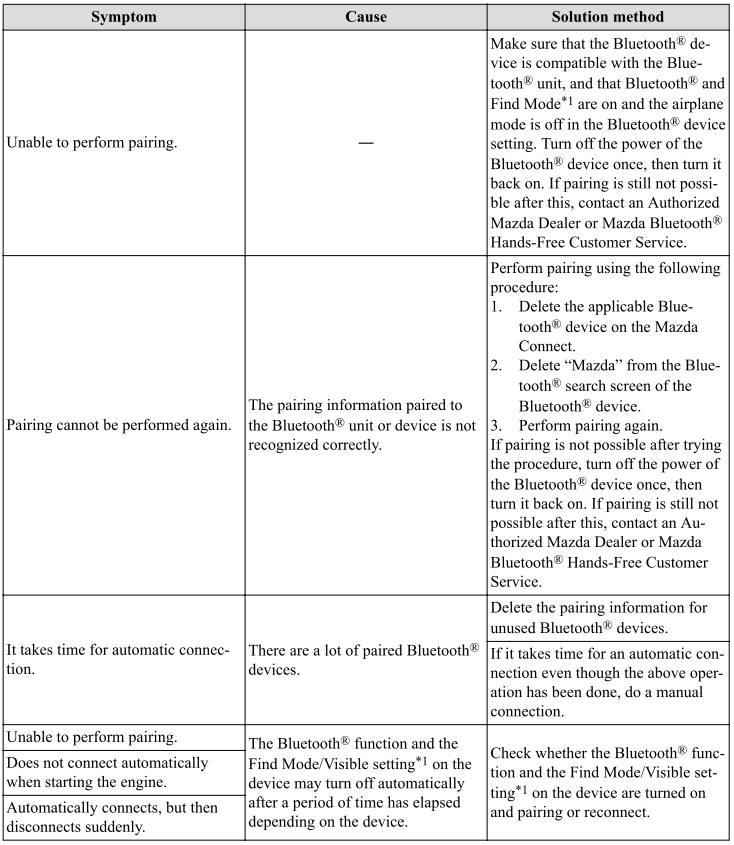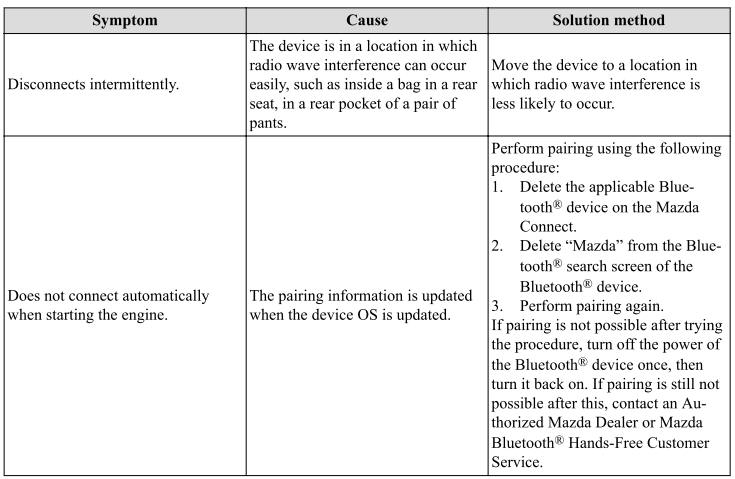 *1 Setting which detects the existence of a device external to the Bluetooth® unit.
NOTE
When the OS of the device is updated, the pairing information may be deleted. If this happens, reprogram the pairing information to the Bluetooth® unit.
If you pair your phone which has already been paired to your vehicle more than once in the past, you need to delete "Mazda" on your mobile device. Then, execute the Bluetooth® search on your mobile device once again, and pair to a newly detected "Mazda".
Before you pair your device, make sure that Bluetooth® is "ON", both on your phone and on the vehicle.
If Bluetooth®-enabled devices are used in the following locations or conditions, connection via Bluetooth® may not be possible.

The device is in a location hidden from the center display such as behind or under a seat, or inside the glove compartment.
The device contacts or is covered by a metal object or body.
The device is set to power-saving mode.

Different Bluetooth®-enabled devices can be used for Bluetooth® Hands-Free and Bluetooth® audio. For example, device A can be connected as a Bluetooth® Hands-Free device and device B can be connected as a Bluetooth® audio device. However, the following may occur when they are used at the same time.

The Bluetooth® connection of the device is disconnected.
Noise occurs in the Hands-Free audio.
Hands-Free operates slowly.
Voice recognition related problems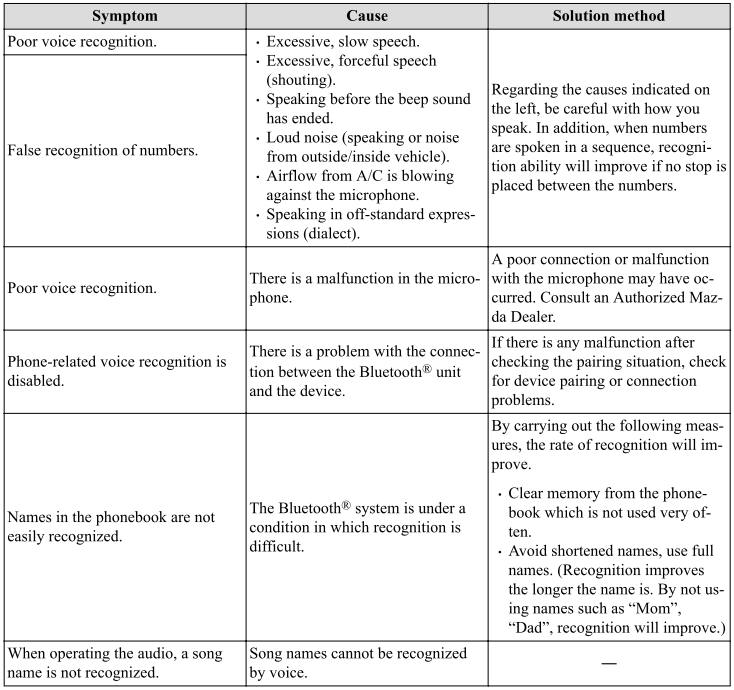 Regarding problems with calls

Other problems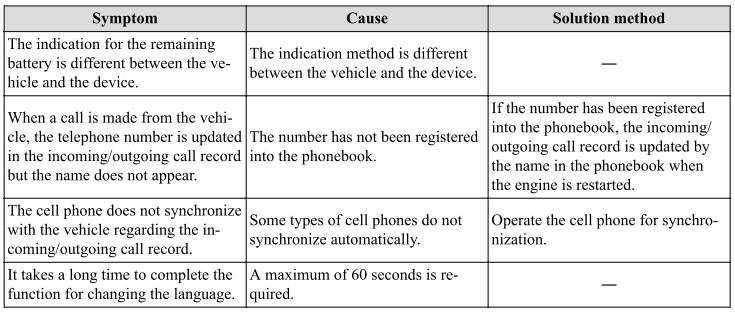 NOTE Depending on the grade and specification, the screen display may differ. Select the icon on the home screen to display the Applications screen...
Things You Need to Know WARNING Always adjust the audio while the vehicle is stopped: Do not adjust the audio control switches while driving the vehicle...
Other information:
The front seats are electrically heated. The ignition must be switched ON. Press the seat warmer switch while the ignition is switched ON to operate the seat warmer. The indicator lights turn on to indicate that the seat warmer is operating. The mode changes as follows each time the seat warmer switch is pressed...
P..
Categories
The system operates only when the driver is in the vehicle or within operational range while the key is being carried.
NOTE
When the battery power is low, or in places where there are high-intensity radio waves or noise, the operational range may become narrower or the system may not operate. For determining battery replacement, Refer to Keyless Entry System.