Mazda CX-3: Switches and Controls / Turn and Lane-Change Signals
The ignition must be switched ON to use the turn and lane-change signals.
Turn Signals
Move the signal lever down (for a left turn) or up (for a right turn) to the stop position. The signal will self-cancel after the turn is completed.
If the indicator light continues to flash after a turn, manually return the lever to its original position.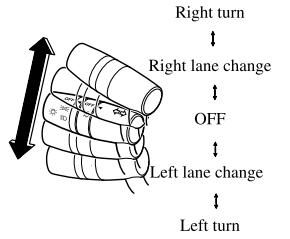 The turn signal indicators in the instrument cluster flash according to the operation of the turn signal lever to show which signal is working.

NOTE
If an indicator light stays on without flashing or if it flashes abnormally, one of the turn signal bulbs may be burned out.
A personalized function is available to change the turn indicator sound volume.
Lane-Change Signals
Move the lever halfway toward the direction of the lane change―until the indicator flashes― and hold it there. It will return to the off position when released.
Three-Flash Turn Signal
After releasing the turn signal lever, the turn signal indicator flashes 3 times. The operation can be canceled by moving the lever in the direction opposite to which it was operated.
NOTE
The three-flash turn signal function can be switched to operable/inoperable using the personalization function.
Refer to Personalization Features.
Categories
We recommend the use of Genuine Mazda floor mats.
WARNING
Make sure the floor mats are hooked on the retention pins to prevent them from bunching up under the foot pedals: Using a floor mat that is not secured is dangerous as it will interfere with the accelerator and brake pedal operation, which could result in an accident.
Do not install two floor mats, one on top of the other, on the driver's side: Installing two floor mats, one on top of the other, on the driver's side is dangerous as the retention pins can only keep one floor mat from sliding forward. Loose floor mat(s) will interfere with the foot pedals and could result in an accident. If using an all-weather mat for winter use always remove the original floor mat.