Mazda CX-3: Automatic Transaxle / Automatic Transaxle Controls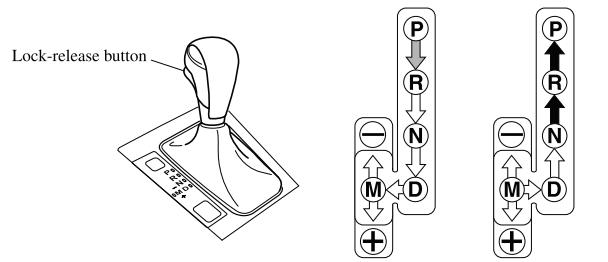 Various Lockouts:

- Indicates that you must depress the brake pedal and hold in the lock-release button to shift (The ignition must be switched ON).

- Indicates the shift lever can be shifted freely into any position.

- Indicates that you must hold in the lock-release button to shift.
NOTE
The Sport AT has an option that is not included in the traditional automatic transaxle that gives the driver the option of selecting each gear instead of leaving it to the transaxle to shift gears. Even if you intend to use the automatic transaxle functions as a traditional automatic, you should also be aware that you can inadvertently shift into manual shift mode and an inappropriate gear may be retained as the vehicle speed increases. If you notice the engine speed going higher or hear the engine racing, confirm you have not accidentally slipped into manual shift mode.
The shift-lock system prevents shifting out of P unless the brake pedal is depressed. To shift from P: Depress and hold the brake pedal. Start the engine...
Other information:
U.S.A. Mazda North American Operations 200 Spectrum Center Drive Suite 100 Irvine, California 92618 P.O. Box 19734 Irvine, CA 92623-9734 U.S.A. TEL: 1 (800) 222-5500 (in U.S.A.) (949) 727-1990 (outside U.S.A.) CANADA Mazda Canada Inc. 55 Vogell Road, Richmond Hill, Ontario, L4B 3K5 Canada TEL: 1 (800) 263-4680 (in Canada) (905) 787-7000 (outside Canada) PUERTO RICO/U...
Your complete and permanent satisfaction is our business. That is why all Authorized Mazda Dealers have the knowledge and the tools to keep your Mazda vehicle in top condition. If you have any questions or recommendations for improvement regarding the service of your Mazda vehicle or servicing by Mazda Dealer personnel, we recommend that you take the following steps: STEP 1 Discuss the matter with an Authorized Mazda Dealer...
Categories
The system operates only when the driver is in the vehicle or within operational range while the key is being carried.
NOTE
When the battery power is low, or in places where there are high-intensity radio waves or noise, the operational range may become narrower or the system may not operate. For determining battery replacement, Refer to Keyless Entry System.