Mazda CX-3: Storage Compartments / Center Console
The rear divider can be removed and stored.
Removing the divider provides a console box with a wider space.
Pull out the divider.

Insert the divider into the armrest from the top with the flap side of the divider facing the underside of the armrest, and press it in until a click sound is heard.

NOTE

To use the divider, install it in the reverse order of removal.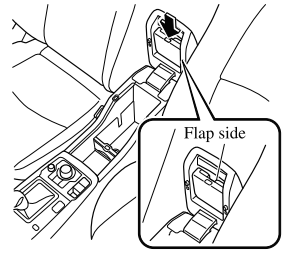 Use the loops in the luggage compartment to secure cargo with a rope or net. The tensile strength of the loops is 196 N (20 kgf, 44 lbf). Do not apply excessive force to the loops as it will damage them...
Other information:
NOTE The explanation of functions described in this manual may differ from the actual operation, and the shapes of screens and buttons and the letters and characters displayed may also differ from the actual appearance. Additionally, depending on future software updates, the content may successively change without notice...
Use snow tires on all 4 wheels Do not go faster than 120 km/h (75 mph) while driving with snow tires. Inflate snow tires 30 kPa (0.3 kgf/cm2, 4.3 psi) more than recommended on the tire pressure label (driver's door frame), but never more than the maximum cold-tire pressure shown on the tires...
Categories
The system operates only when the driver is in the vehicle or within operational range while the key is being carried.
NOTE
When the battery power is low, or in places where there are high-intensity radio waves or noise, the operational range may become narrower or the system may not operate. For determining battery replacement, Refer to Keyless Entry System.