Mazda CX-3: Storage Compartments / Center Console
The rear divider can be removed and stored.
Removing the divider provides a console box with a wider space.
Pull out the divider.

Insert the divider into the armrest from the top with the flap side of the divider facing the underside of the armrest, and press it in until a click sound is heard.

NOTE

To use the divider, install it in the reverse order of removal.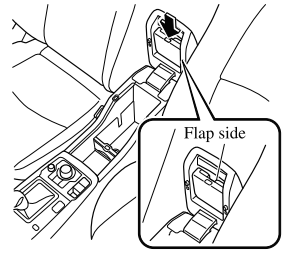 Use the loops in the luggage compartment to secure cargo with a rope or net. The tensile strength of the loops is 196 N (20 kgf, 44 lbf). Do not apply excessive force to the loops as it will damage them...
Other information:
The fuel gauge shows approximately how much fuel is remaining in the tank when the ignition is switched ON. We recommend keeping the tank over 1/4 full. If the low fuel warning light illuminates or the fuel level is very low, refuel as soon as possible...
WARNING Please comply with the legal regulations concerning the use of communication equipment in vehicles in your country: Use of any electrical devices such as cell phones, computers, portable radios, vehicle navigation or other devices by the driver while the vehicle is moving is dangerous...
Categories
The system operates only when the driver is in the vehicle or within operational range while the key is being carried.
NOTE
When the battery power is low, or in places where there are high-intensity radio waves or noise, the operational range may become narrower or the system may not operate. For determining battery replacement, Refer to Keyless Entry System.