Mazda CX-3: Storage Compartments / Cargo Securing Loops
Use the loops in the luggage compartment to secure cargo with a rope or net. The tensile strength of the loops is 196 N (20 kgf, 44 lbf). Do not apply excessive force to the loops as it will damage them.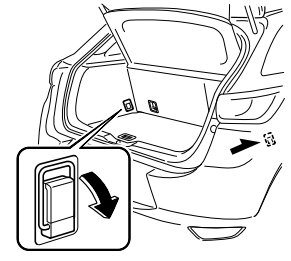 The rear divider can be removed and stored. Removing the divider provides a console box with a wider space. Pull out the divider. Insert the divider into the armrest from the top with the flap side of the divider facing the underside of the armrest, and press it in until a click sound is heard...
When using the luggage board in the upper level CAUTION Make sure the luggage board is securely inserted into the grooves. Otherwise, the luggage board may detach while the vehicle is being driven or during sudden braking resulting in injury or damage to the luggage board...
Other information:
To listen to a Bluetooth® audio device over the vehicle's speaker system, switch the mode to Bluetooth® audio mode. (Refer to "Switching to Bluetooth® audio mode") To stop playback, press the Play/Pause button (4). Press the button again to resume playback...
I..
Categories
WARNING
Be sure to look over your shoulder before changing lanes:
Changing lanes without taking into account the actual distance of the vehicle in the convex mirror is dangerous. You could have a serious accident. What you see in the convex mirror is closer than it appears.
Mirror type
Flat type (driver's side)