Mazda CX-3: Fuel and Engine Exhaust Precautions / Fuel Requirements
Vehicles with catalytic converters or oxygen sensors must use ONLY UNLEADED FUEL, which will reduce exhaust emissions and keep spark plug fouling to a minimum.
To achieve maximum engine performance, use the specified fuel.

*1 U.S. federal law requires that octane ratings be posted on gas station pumps.
Fuel with a rating lower than 87 octane (91 RON) will negatively affect the emission control system performance and could also cause engine knocking and serious engine damage.
CAUTION
Gasoline blended with oxygenates such as alcohol or ether compounds are generally referred to as oxygenated fuels. The common gasoline blend that can be used with your vehicle is ethanol blended at no more than 10 %. Gasoline containing alcohol, such as ethanol or methanol, may be marketed under the name "Gasohol".
Vehicle damage and drivability problems resulting from the use of the following may not be covered by the warranty.
Gasohol containing more than 10 % ethanol.
Gasoline or gasohol containing methanol.
Leaded fuel or leaded gasohol.
This vehicle is equipped with an emission control system (the catalytic converter is part of this system) that enables the vehicle to comply with existing exhaust emissions requirements...
Other information:
The manual shift mode gives you the feel of driving a manual transaxle vehicle by allowing you to operate the selector lever manually. This allows you to control engine rpm and torque to the drive wheels much like a manual transaxle when more control is desired...
"Oil Change" with a flexible setting*1 is available. Consult your Authorized Mazda Dealer when you want to change the setting*2. Once the system turns on, the wrench indicator light in the instrument cluster will be illuminated when remaining oil life becomes less than 1,000 km (600 mile), or remaining days are less than 15 (whichever comes first)...
Categories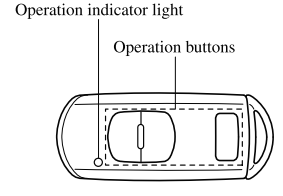 NOTE
The headlights turn on/off by operating the transmitter. Refer to Leaving Home Light. (With theft-deterrent system)
The hazard warning lights flash when the theft-deterrent system is armed or turned off. Refer to Theft-Deterrent System.
(With the advanced keyless function)