Mazda CX-3: Driving Tips / Hazardous Driving
WARNING
Be extremely careful if it is necessary to downshift on slippery surfaces: Downshifting into lower gear while driving on slippery surfaces is dangerous. The sudden change in tire speed could cause the tires to skid. This could lead to loss of vehicle control and an accident.
When driving on ice or in water, snow, mud, sand, or similar hazards:
Be cautious and allow extra distance for braking.
Avoid sudden braking and sudden maneuvering.
Do not pump the brakes. Continue to press down on the brake pedal. Refer to Antilock Brake System (ABS).
If you get stuck, select a lower gear and accelerate slowly. Do not spin the front wheels.
For more traction in starting on slippery surfaces such as ice or packed snow, use sand, rock salt, chains, carpeting, or other nonslip material under the front wheels.
NOTE
Use snow chains only on the front wheels.
How you operate your Mazda determines how far it will travel on a tank of fuel. Use these suggestions to help save fuel and reduce CO2. Avoid long warm-ups...
We recommend the use of Genuine Mazda floor mats. WARNING Make sure the floor mats are hooked on the retention pins to prevent them from bunching up under the foot pedals: Using a floor mat that is not secured is dangerous as it will interfere with the accelerator and brake pedal operation, which could result in an accident...
Other information:
Federal law requires tire manufacturers to place standardized information on the sidewall of all tires. This information identifies and describes the fundamental characteristics of the tire and also provides a tire identification number for safety standard certification and in case of a recall...
B..
Categories
The fuel gauge shows approximately how much fuel is remaining in the tank when the ignition is switched ON. We recommend keeping the tank over 1/4 full.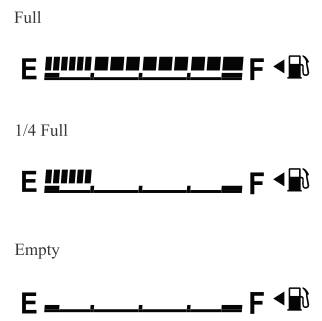 If the low fuel warning light illuminates or the fuel level is very low, refuel as soon as possible.
If inconsistency in engine performance or stalling occurs due to low fuel level conditions, refuel the vehicle as soon as possible and add at least 10 L (2.7 US gal, 2.2 Imp gal) of fuel. Refer to Taking Action.