Mazda CX-3: Manual Shift Mode / Manually Shifting Down
You can shift gears down by operating the selector lever or the steering shift switches*.
M6 → M5 → M4 → M3 → M2→ M1
Using selector lever
To shift down to a lower gear, tap the selector lever forward once.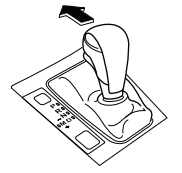 Using steering shift switch*
To shift down to a lower gear with the steering shift switches, pull the DOWN switch toward you once with your fingers.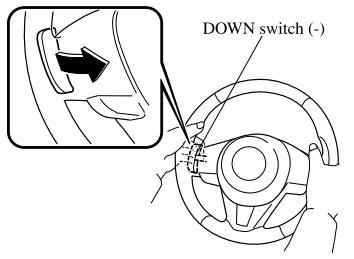 WARNING
Do not use engine braking on slippery road surfaces or at high speeds: Shifting down while driving on wet, snowy, or frozen roads, or while driving at high speeds causes sudden engine braking, which is dangerous. The sudden change in tire speed could cause the tires to skid. This could lead to loss of vehicle control and an accident.
Keep your hands on the steering wheel rim when using fingers on the steering shift switches: Putting your hands inside the rim of the steering wheel when using the steering shift switches is dangerous. If the driver's air bag were to deploy in a collision, your hands could be impacted causing injury.
NOTE
When driving at high speeds, the gear may not shift down.
During deceleration, the gear may automatically shift down depending on vehicle speed.
When depressing the accelerator fully, the transaxle will shift to a lower gear, depending on vehicle speed. However, the gears do not kickdown while the TCS is turned off.
Categories
Opening the liftgate with Electric liftgate opener
Unlock the doors and liftgate, then press the electric liftgate opener on the liftgate and raise the liftgate when the latch releases.