Mazda CX-3: Brake System / Warning Light and Brake Pad Wear Indicator
Warning Light
The warning light turns on when the system has a malfunction. Refer to Contact Authorized Mazda Dealer and Have Vehicle Inspected.
Brake Pad Wear Indicator
When the disc brake pads become worn, the built-in wear indicators contact the disc plates. This causes a screeching noise to warn that the pads should be replaced.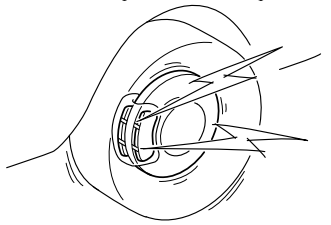 When you hear this noise, consult an Authorized Mazda Dealer as soon as possible.
WARNING
Do not drive with worn disc pads: Driving with worn disc pads is dangerous. The brakes could fail and cause a serious accident. As soon as you hear a screeching noise consult an Authorized Mazda Dealer.
NOTE
In high humidity weather conditions, brake noises, such as brake squeak or brake squeal can be heard. It does not indicate a malfunction.
Categories
In this owner's manual, explanation of child-restraint systems is provided for the following three types of popular child-restraint systems: infant seat, child seat, booster seat.
NOTE
Installation position is determined by the type of child-restraint system. Always read the manufacturer's instructions and this owner's manual carefully. Due to variations in the design of child-restraint systems, vehicle seats and seat belts, all child-restraint systems may not fit all seating positions. Before purchasing a child-restraint system, it should be tested in the specific vehicle seating position (or positions) where it is intended to be used. If a previously purchased child-restraint system does not fit, you may need to purchase a different one that will.