Mazda CX-3: Power Windows / Auto-opening/Closing
To fully open the window automatically, press the switch completely down, then release. The window will fully open automatically.
To fully close the window automatically, pull the switch completely up, then release. The window will fully close automatically.
To stop the window partway, pull or press the switch in the opposite direction and then release it. This function is only equipped on the driver's side.
NOTE
Power window system initialization procedure
If the battery was disconnected during vehicle maintenance, or for other reasons (such as a switch continues to be operated after the window is fully open/closed), the window will not fully open and close automatically.
The power window auto function will only resume on a power window that has been reset.
Switch the ignition ON.
Make sure that the power window lock switch located on the driver's door is not depressed.
Press the switch and fully open the window.
Pull up the switch to fully close the window and continue holding the switch for about 2 seconds after the window fully closed.
Make sure that the power windows operate correctly using the door switches.
The window opens while the switch is pressed and it closes while the switch is pulled up with the ignition switched ON. Do not open or close three or more windows at the same time...
If foreign matter is detected between the window and the window frame while the window is closing automatically (refer to Auto-opening/Closing on page 3-30), the window stops closing and automatically opens partway...
Other information:
If the KEY warning light (red) illuminates, or the push button start indicator light (amber) flashes, this could indicate that the engine may not start using the usual starting method. Have your vehicle inspected at an Authorized Mazda Dealer as soon as possible...
D..
Categories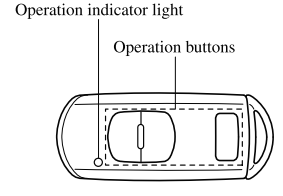 NOTE
The headlights turn on/off by operating the transmitter. Refer to Leaving Home Light. (With theft-deterrent system)
The hazard warning lights flash when the theft-deterrent system is armed or turned off. Refer to Theft-Deterrent System.
(With the advanced keyless function)