Mazda CX-3: Basic Operation Method / Commander switch operation
NOTE
For safety reasons, some operations are disabled while the vehicle is being driven. Volume dial operation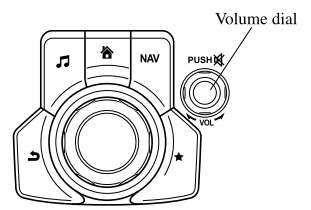 Press the volume dial to mute and pause. However, while an audio source which cannot be paused such as FM radio is playing, only mute is available. Press the volume dial again to resume the audio.
Turn the volume dial to adjust the volume. The volume increases by turning the dial clockwise, and decreases by turning it counterclockwise.
Switches around commander knob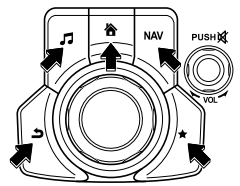 The following operations can be done by pressing the switches around the commander knob.

: Displays the home screen.

: Displays the Entertainment screen.

: Displays the Navigation screen (Only navigation-equipped vehicles). For operation of the Navigation screen, refer to the navigation system manual. If the SD card for the navigation system is not inserted, the compass indicating the direction in which the vehicle is moving is displayed.

: Displays the Favorites screen. Long-press to store particular items in Favorites. (Radio, phonebook and destination of the navigation system can be programmed.)

: Returns to previous screen.
Commander knob operation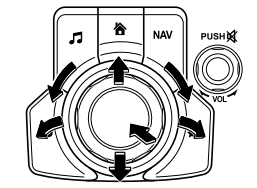 (Selection of icons on screen)
Tilt or turn the commander knob and move the cursor to the desired icon.
Press the commander knob and select the icon.
NOTE
Long-press operation of the commander knob is also possible for some functions.
Categories
WARNING
Be sure to look over your shoulder before changing lanes:
Changing lanes without taking into account the actual distance of the vehicle in the convex mirror is dangerous. You could have a serious accident. What you see in the convex mirror is closer than it appears.
Mirror type
Flat type (driver's side)