Mazda CX-3: Basic Operation Method / Touch panel operation
CAUTION
Do not press the screen strongly or press it with a sharp-pointed object. Otherwise, the screen could be damaged.
NOTE
For safety reasons, operation of the center display is disabled while the vehicle is being driven. However, items not displayed in gray can be operated using the commander switch while the vehicle is being driven.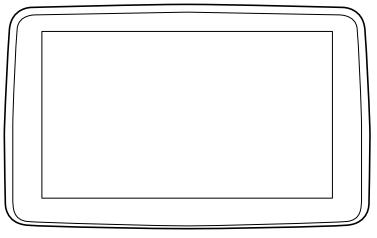 Touch & Tap
Touch or tap on the item indicated on the screen.
The operation is launched and the next item is displayed.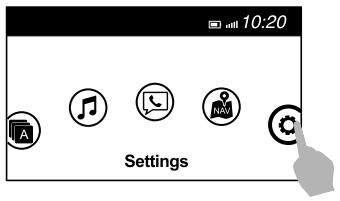 Slide (USB audio only)
Touch the setting item displaying a slider bar.
Touch the slider with your finger and move to the desired level.

Swipe
Touch the screen with your finger and move up or down.
Items which were not displayed can be displayed.

Return to previous screen
Touch the

.
Displaying the home screen
Touch the

.
NOTE For safety reasons, some operations are disabled while the vehicle is being driven. Volume dial operation Press the volume dial to mute and pause...
Other information:
Registering your vehicle in a foreign country may be problematic depending on whether it meets the specific emission and safety standards of the country in which the vehicle will be driven. Consequently, your vehicle may require modifications at personal expense in order to meet the regulations...
Replacing the fuses on the vehicle's left side If the electrical system does not work, first inspect the fuses on the vehicle's left side. Make sure the ignition is switched off, and other switches are off. Open the fuse panel cover. Pull the fuse straight out with the fuse puller provided on the fuse block located in the engine compartment...
Categories
The fuel gauge shows approximately how much fuel is remaining in the tank when the ignition is switched ON. We recommend keeping the tank over 1/4 full.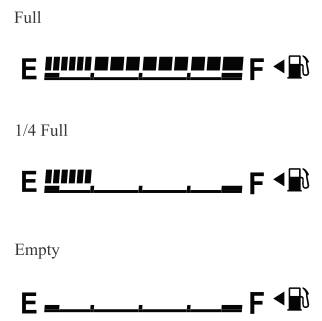 If the low fuel warning light illuminates or the fuel level is very low, refuel as soon as possible.
If inconsistency in engine performance or stalling occurs due to low fuel level conditions, refuel the vehicle as soon as possible and add at least 10 L (2.7 US gal, 2.2 Imp gal) of fuel. Refer to Taking Action.