Mazda CX-3: Bluetooth® Hands-Free / Communication Settings
Select the

icon on the home screen to display the Communication screen. Select

to change the setting.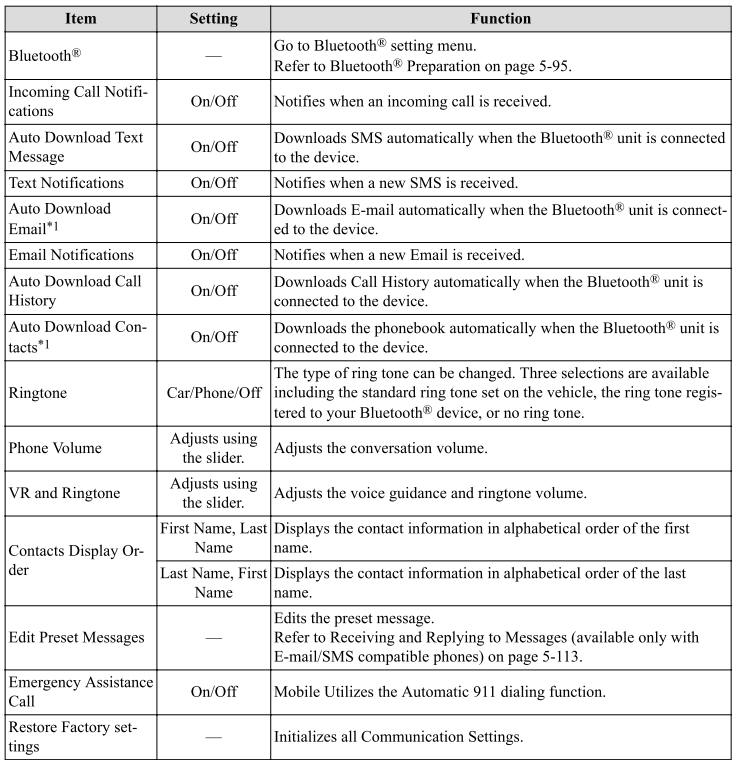 *1 Depending on the device, it may be necessary to acquire download permission on the device side.
SMS (Short Message Service) messages, and E-mail received by connected devices can be downloaded, displayed, and played (read by the system). Additionally, replies can also be made to calls and messages in the received messages...
Other information:
Microphone (hands-free) The microphone is used for speaking voice commands or when making a Hands-free call. Talk button Activates the voice recognition. In addition, it skips the voice guidance. Pick-up button Responds to incoming calls. In addition, after selecting a contact or dialing a number, it places the call when the button is pressed...
We recommend the use of Genuine Mazda floor mats. WARNING Make sure the floor mats are hooked on the retention pins to prevent them from bunching up under the foot pedals: Using a floor mat that is not secured is dangerous as it will interfere with the accelerator and brake pedal operation, which could result in an accident...
Categories
In this owner's manual, explanation of child-restraint systems is provided for the following three types of popular child-restraint systems: infant seat, child seat, booster seat.
NOTE
Installation position is determined by the type of child-restraint system. Always read the manufacturer's instructions and this owner's manual carefully. Due to variations in the design of child-restraint systems, vehicle seats and seat belts, all child-restraint systems may not fit all seating positions. Before purchasing a child-restraint system, it should be tested in the specific vehicle seating position (or positions) where it is intended to be used. If a previously purchased child-restraint system does not fit, you may need to purchase a different one that will.