Mazda CX-3: Appendix / Operating Tips for USB device
This unit plays audio files as follows: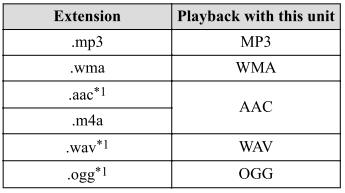 CAUTION
Do not use an audio file extension on files other than audio files. In addition, do not change the audio file extension. Otherwise, the unit will not recognize the file correctly resulting in noise or a malfunction.
NOTE
Playback may not be possible depending on the type and condition of the USB flash memory even if the audio file complies with the standard.
A copyright protected WMA/AAC file cannot be played in this unit.
(Type B)

If a file name in the USB memory is too long, it could cause operation problems such as not being able to playback the song.

(Recommended: Within 80 characters)

The order of the music data stored in the device may differ from the playback order.
To prevent loss or damage of stored data, we recommend that you always back up your data.
(Vehicles without USB port indicated with )

If a device exceeds the maximum electric current value of 1,000 mA, it may not operate or recharge when connected.

(Vehicles with USB port indicated with )

If the current consumption of the connected device exceeds the following current value, it may not operate or recharge.

Apple device is connected : 2,100 mA
Device compatible with BC1.2 is connected : 1,500 mA
Device other than the above is connected : 500 mA
Do not pull out the USB device while in the USB mode (only pull it out while in FM/AM radio mode).
The device will not operate if the data is password protected.
MP3/WMA/AAC/OGG files written under specifications other than the indicated specification may not play normally or files/folder names may not display correctly.
*1 Type B
Categories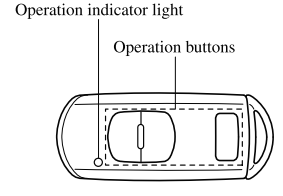 NOTE
The headlights turn on/off by operating the transmitter. Refer to Leaving Home Light. (With theft-deterrent system)
The hazard warning lights flash when the theft-deterrent system is armed or turned off. Refer to Theft-Deterrent System.
(With the advanced keyless function)