Mazda CX-3: Wiper Blades / Replacing Rear Window Wiper Blade
When the wiper no longer cleans well, the blade is probably worn or cracked. Replace it.
CAUTION
To prevent damage to the wiper arm and other components, do not move the wiper by hand.
Remove the cover.

Remove the stopper and raise the wiper arm.

Firmly rotate the wiper blade to the right until it unlocks, then remove the blade.

CAUTION

To prevent damage to the rear window, do not let the wiper arm fall on it.

Pull down the blade rubber and slide it out of the blade holder.

Remove the metal stiffeners from the blade rubber and install them in the new blade.

CAUTION

Do not bend or discard the stiffeners. You need to use them again.

Carefully insert the new blade rubber. Then install the blade assembly in the reverse order of removal.
Categories
The fuel gauge shows approximately how much fuel is remaining in the tank when the ignition is switched ON. We recommend keeping the tank over 1/4 full.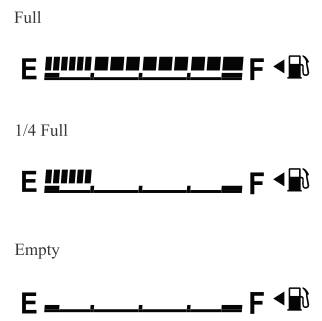 If the low fuel warning light illuminates or the fuel level is very low, refuel as soon as possible.
If inconsistency in engine performance or stalling occurs due to low fuel level conditions, refuel the vehicle as soon as possible and add at least 10 L (2.7 US gal, 2.2 Imp gal) of fuel. Refer to Taking Action.