Mazda CX-3: Tires / Tire Rotation
WARNING
Rotate tires periodically: Irregular tire wear is dangerous. To equalize tread wear for maintaining good performance in handling and braking, rotate the tires every 12,000 km (7,500 miles). However Mazda recommends to rotate every 8,000 km (5,000 miles) to help increase tire life and distribute wear more evenly.
Refer to Scheduled Maintenance.
During rotation, inspect them for correct balance.
Do not include (TEMPORARY USE ONLY) spare tire in rotation.
Also, inspect them for uneven wear and damage. Abnormal wear is usually caused by one or a combination of the following:
Incorrect tire pressure
Improper wheel alignment
Out-of-balance wheel
Severe braking
After rotation, inflate all tire pressures to specification and inspect the lug nuts for tightness.
CAUTION
Rotate unidirectional tires and radial tires that have an asymmetrical tread pattern or studs only from front to rear, not from side to side. Tire performance will be reduced if rotated from side to side.
Categories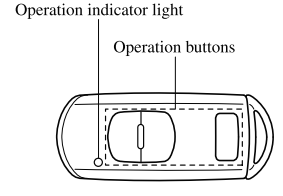 NOTE
The headlights turn on/off by operating the transmitter. Refer to Leaving Home Light. (With theft-deterrent system)
The hazard warning lights flash when the theft-deterrent system is armed or turned off. Refer to Theft-Deterrent System.
(With the advanced keyless function)