Mazda CX-3: ABS/TCS/DSC / Traction Control System (TCS)
The Traction Control System (TCS) enhances traction and safety by controlling engine torque and braking. When the TCS detects driving wheel slippage, it lowers engine torque and operates the brakes to prevent loss of traction.
This means that on a slick surface, the engine adjusts automatically to provide optimum power to the drive wheels, limiting wheel spin and loss of traction.
The warning light turns on when the system has a malfunction. Refer to Contact Authorized Mazda Dealer and Have Vehicle Inspected.
WARNING
Do not rely on the Traction Control System (TCS) as a substitute for safe driving: The Traction Control System (TCS) cannot compensate for unsafe and reckless driving, excessive speed, tailgating (following another vehicle too closely), and hydroplaning (reduced tire friction and road contact because of water on the road surface). You can still have an accident.
Use snow tires or tire chains and drive at reduced speeds when roads are covered with ice and/or snow: Driving without proper traction devices on snow and/or ice-covered roads is dangerous. The Traction Control System (TCS) alone cannot provide adequate traction and you could still have an accident.
NOTE
To turn off the TCS, press the TCS OFF switch.
Categories
The fuel gauge shows approximately how much fuel is remaining in the tank when the ignition is switched ON. We recommend keeping the tank over 1/4 full.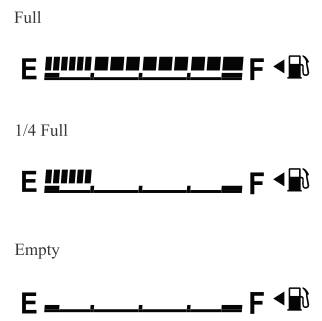 If the low fuel warning light illuminates or the fuel level is very low, refuel as soon as possible.
If inconsistency in engine performance or stalling occurs due to low fuel level conditions, refuel the vehicle as soon as possible and add at least 10 L (2.7 US gal, 2.2 Imp gal) of fuel. Refer to Taking Action.