Mazda CX-3: Exterior Care / Underbody Maintenance
Road chemicals and salt used for ice and snow removal and solvents used for dust control may collect on the underbody. If not removed, they will speed up rusting and deterioration of such underbody parts as fuel lines, frame, floor pan, and exhaust system, even though these parts may be coated with anti-corrosive material.
Thoroughly flush the underbody and wheel housings with lukewarm or cold water at the end of each winter. Try also to do this every month.
Pay special attention to these areas because they easily hide mud and dirt. It will do more harm than good to wet down the road grime without removing it.
The lower edges of doors, rocker panels, and frame members have drain holes that should not be clogged. Water trapped there will cause rusting.
WARNING
Dry off brakes that have become wet by driving slowly, releasing the accelerator pedal and lightly applying the brakes several times until the brake performance returns to normal: Driving with wet brakes is dangerous. Increased stopping distance or the vehicle pulling to one side when braking could result in a serious accident. Light braking will indicate whether the brakes have been affected.
Categories
The fuel gauge shows approximately how much fuel is remaining in the tank when the ignition is switched ON. We recommend keeping the tank over 1/4 full.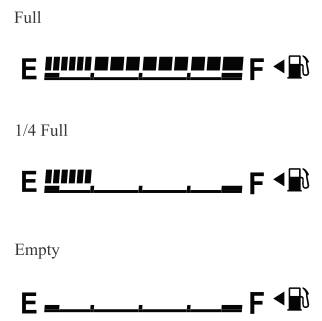 If the low fuel warning light illuminates or the fuel level is very low, refuel as soon as possible.
If inconsistency in engine performance or stalling occurs due to low fuel level conditions, refuel the vehicle as soon as possible and add at least 10 L (2.7 US gal, 2.2 Imp gal) of fuel. Refer to Taking Action.