Mazda CX-3: Vent Operation / Adjusting the Vents
Directing airflow
To adjust the direction of airflow, move the adjustment knob.
NOTE
When using the air conditioner under humid ambient temperature conditions, the system may blow fog from the vents. This is not a sign of trouble but a result of humid air being suddenly cooled.
Center vents (driver) and Side vents
Air vent open/close
NOTE
The air vents can be fully opened and closed by operating the knob.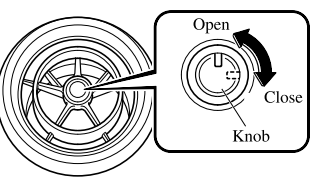 Airflow direction adjustment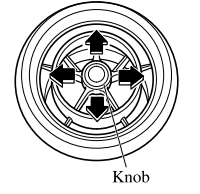 Center vents (front passenger)
Air vent open/close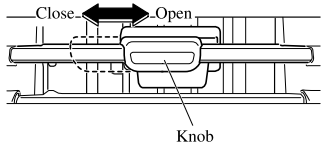 Airflow direction adjustment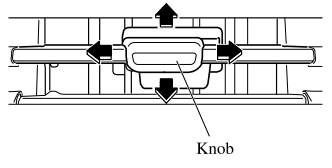 Dashboard Vents Dashboard and Floor Vents Floor Vents Defroster and Floor Vents Defroster Vents NOTE The location airflow exits the air vents and the airflow amount may change depending on the open or close status of the air vents...
Other information:
The HBC determines the conditions in front of the vehicle using the Forward Sensing Camera (FSC) while driving in darkness to automatically switch the headlights between high and low beams. Refer to Forward Sensing Camera (FSC). While driving the vehicle at a speed of about 30 km/h (19 mph) or more, the headlights are switched to high beams when there are no vehicles ahead or approaching in the opposite direction...
NOTE If the following occurs while driving, it could indicate a flat tire. Steering becomes difficult. The vehicle begins to vibrate excessively. The vehicle pulls in one direction. If you have a flat tire, drive slowly to a level spot that is well off the road and out of the way of traffic to change the tire...
Categories
WARNING
Do not stack cargo or objects higher than the seatbacks:
Cargo stacked higher than the seatbacks is dangerous. It can block your view in the rearview mirror, which might cause you to hit another car when changing lanes.
Rearview mirror adjustment
Before driving, adjust the rearview mirror to center on the scene through the rear window.