Mazda CX-3: Vent Operation / Adjusting the Vents
Directing airflow
To adjust the direction of airflow, move the adjustment knob.
NOTE
When using the air conditioner under humid ambient temperature conditions, the system may blow fog from the vents. This is not a sign of trouble but a result of humid air being suddenly cooled.
Center vents (driver) and Side vents
Air vent open/close
NOTE
The air vents can be fully opened and closed by operating the knob.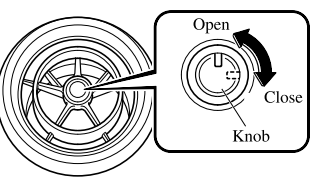 Airflow direction adjustment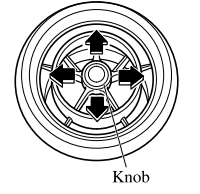 Center vents (front passenger)
Air vent open/close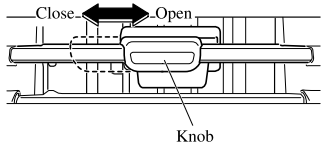 Airflow direction adjustment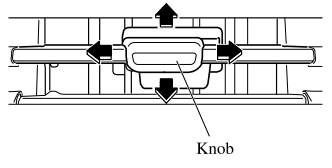 Dashboard Vents Dashboard and Floor Vents Floor Vents Defroster and Floor Vents Defroster Vents NOTE The location airflow exits the air vents and the airflow amount may change depending on the open or close status of the air vents...
Other information:
The rear armrest in the center of the rear seatback can be used (no occupant in the center seat) or placed upright. WARNING Never position the shoulder portion of a seat belt over the armrest: Positioning the shoulder portion of a rear seat belt over the armrest is dangerous as it cannot provide adequate protection in a collision and could result in serious injuries...
U.S.A. and Puerto Rico residents - Severe driving conditions maintenance interval Chart symbols: I: Inspect: Inspect and clean, repair, adjust, fill up, or replace if necessary. R: Replace L: Lubricate C: Clean T: Tighten D: Drain Remarks: *1 If the vehicle is operated in very dusty or sandy areas, clean and if necessary, replace the air filter more often than the recommended intervals...
Categories
WARNING
Do not stack cargo or objects higher than the seatbacks:
Cargo stacked higher than the seatbacks is dangerous. It can block your view in the rearview mirror, which might cause you to hit another car when changing lanes.
Rearview mirror adjustment
Before driving, adjust the rearview mirror to center on the scene through the rear window.