Mazda CX-3: Bluetooth® Audio / Switching the display (only AVRCP Ver. 1.3)
The information displayed on the audio display changes as follows each time the text button (3) is pressed during playback.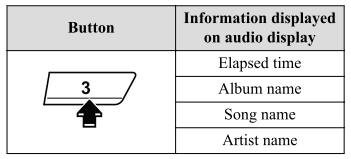 NOTE
If title information is not available, "NO TITLE" is displayed.
This unit cannot display some characters. Characters which cannot be displayed are indicated by an asterisk

.
Display scroll
Only 13 characters can be displayed at one time. To display the rest of the characters of a long title, press and hold the text button (3). The display scrolls the next 13 characters. Press and hold the text button (3) again after the last 13 characters have been displayed to return to the beginning of the title.
Categories
In this owner's manual, explanation of child-restraint systems is provided for the following three types of popular child-restraint systems: infant seat, child seat, booster seat.
NOTE
Installation position is determined by the type of child-restraint system. Always read the manufacturer's instructions and this owner's manual carefully. Due to variations in the design of child-restraint systems, vehicle seats and seat belts, all child-restraint systems may not fit all seating positions. Before purchasing a child-restraint system, it should be tested in the specific vehicle seating position (or positions) where it is intended to be used. If a previously purchased child-restraint system does not fit, you may need to purchase a different one that will.