Mazda CX-3: Audio Set [Type B (touchscreen)] / Bluetooth® Audio
Applicable Bluetooth® specification (Recommended)
Ver. 1.1/1.2/2.0 + EDR/2.1 + EDR/3.0 (conformity)
Response profile
A2DP (Advanced Audio Distribution Profile) Ver. 1.0/1.2
AVRCP (Audio/Video Remote Control Profile) Ver. 1.0/1.3/1.4
A2DP is a profile which transmits only audio to the Bluetooth® unit. If your Bluetooth® audio device corresponds only to A2DP, but not AVRCP, you cannot operate it using the control panel of the vehicle's audio system. In this case, only the operations on the mobile device are available the same as when a portable audio device for a non-compliant Bluetooth® device is connected to the AUX terminal.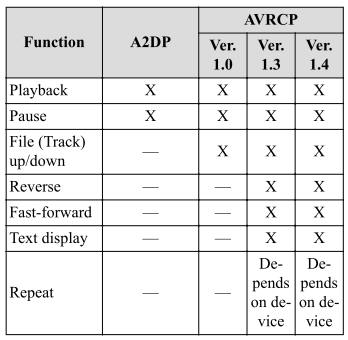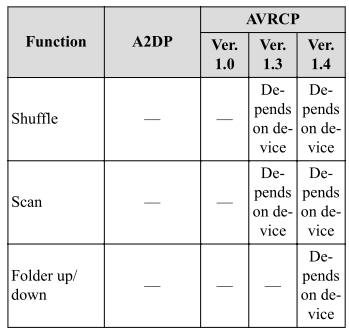 X: Available
— : Not available
NOTE
The battery consumption of Bluetooth® audio devices increases while Bluetooth® is connected.
If a general mobile phone device is USB connected during music playback over the Bluetooth® connection, the Bluetooth® connection is disconnected. For this reason, you cannot have music playback over a Bluetooth® connection and music playback using a USB connection at the same time.
If a device which supports AVRCP Ver. 1.6 or higher is connected, song information may not display correctly.
The system may not operate normally depending on the Bluetooth® audio device.
To listen to music or voice audio recorded to a Bluetooth® audio device, switch to the Bluetooth® audio mode to operate the audio device using the audio system control panel...
Other information:
Your complete and permanent satisfaction is our business. We are here to serve you. All Authorized Mazda Dealers have the knowledge and the tools to keep your Mazda vehicle in top condition. If you have any questions or recommendations for improvement regarding the service of your Mazda vehicle or servicing by Mazda Dealer personnel, we recommend that you take the following steps: Contact Your Mazda Dealer Discuss the matter with an Authorized Mazda Dealer...
The tachometer shows engine speed in thousands of revolutions per minute (rpm). CAUTION Do not run the engine with the tachometer needle in the RED ZONE. This may cause severe engine damage. Type A Type B NOTE When the tachometer needle enters the STRIPED ZONE, this indicates to the driver that the gears should be shifted before entering the RED ZONE...
Categories
In this owner's manual, explanation of child-restraint systems is provided for the following three types of popular child-restraint systems: infant seat, child seat, booster seat.
NOTE
Installation position is determined by the type of child-restraint system. Always read the manufacturer's instructions and this owner's manual carefully. Due to variations in the design of child-restraint systems, vehicle seats and seat belts, all child-restraint systems may not fit all seating positions. Before purchasing a child-restraint system, it should be tested in the specific vehicle seating position (or positions) where it is intended to be used. If a previously purchased child-restraint system does not fit, you may need to purchase a different one that will.